Posted by Tammi Brandon on 21st Aug 2017
One of the biggest struggles my students, particularly my older students, have is blending large words together. Many of my tutoring sessions include activities to help facilitate better whole word reading of larger, longer words. One activity that my students seem to enjoy is simple and inexpensive to make. The only things you need are a permanent marker and a few Styrofoam cups.
Blending Activity
To begin, choose some consonant-vowel-consonant words or pseudowords such as bin, bas, tap, or fet. Write these words/syllables around the edge of a Styrofoam cup. Now, make another cup using different consonant-vowel consonant words and stack the two cups together. Students can now twist the cup and read the two-syllable word created. Most of these words will turn out to be pseudowords, but pseudoword reading is an important skill as it allows students to apply decoding skills!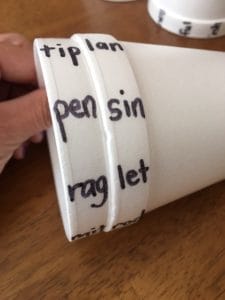 Affixes
For students who are proficient at two-syllable word reading, try adding an additional cup with consonant-vowel-consonant syllables written on it. Reading three-syllable words presents a little more challenge. You could also add suffixes to a cup and practice reading one-, two-, or three-syllable words with suffixes.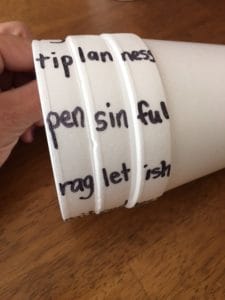 For an even greater challenge, try adding prefixes, too!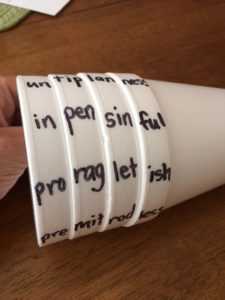 Tammi Brandon, M.Ed., CDP
Tammi Brandon is a Master Instructor and Education Consultant with Brainspring Educator Academy.