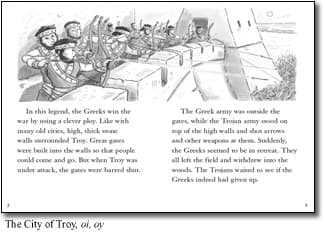 SKILL

Set 6A

Set 6B

Prefix a- (alike), Ending -a(camera), Suffix -able (huggable)

The Shark

Amanda Has a Scare

ph (dolphin)

The Inventor of the Telephone

Bottlenose Dolphins

ought (thought), aught (caught)

The Boy Who Thought Friends Could Be Bought

I Caught It!

ue (clue), ue (barbecue), ew (chew, few), tu (statue)

The Statue of Liberty

Rescue Dogs

oi, oy (coins, cowboy)

The City of Troy

Nat Love, American Cowboy

aw, au (hawk, saucer)

The Hawk

Tide Pools

ey (donkey, prey)

Valley Forge

Can Turkeys Fly?

kn (knight), wr (wrist), mb (climb), gh (ghost), gu (guide)

The Tomb of King Tut

Mark Twain's Great River

Suffix -age (package)

The Voyager Spacecraft:Messages for Outer Space

Maiden Voyage, Last Voyage

Open Syllables

A Tale of King Midas

 

A Tale from Crete

 
There are no products listed under this category.