Brainspring Presents: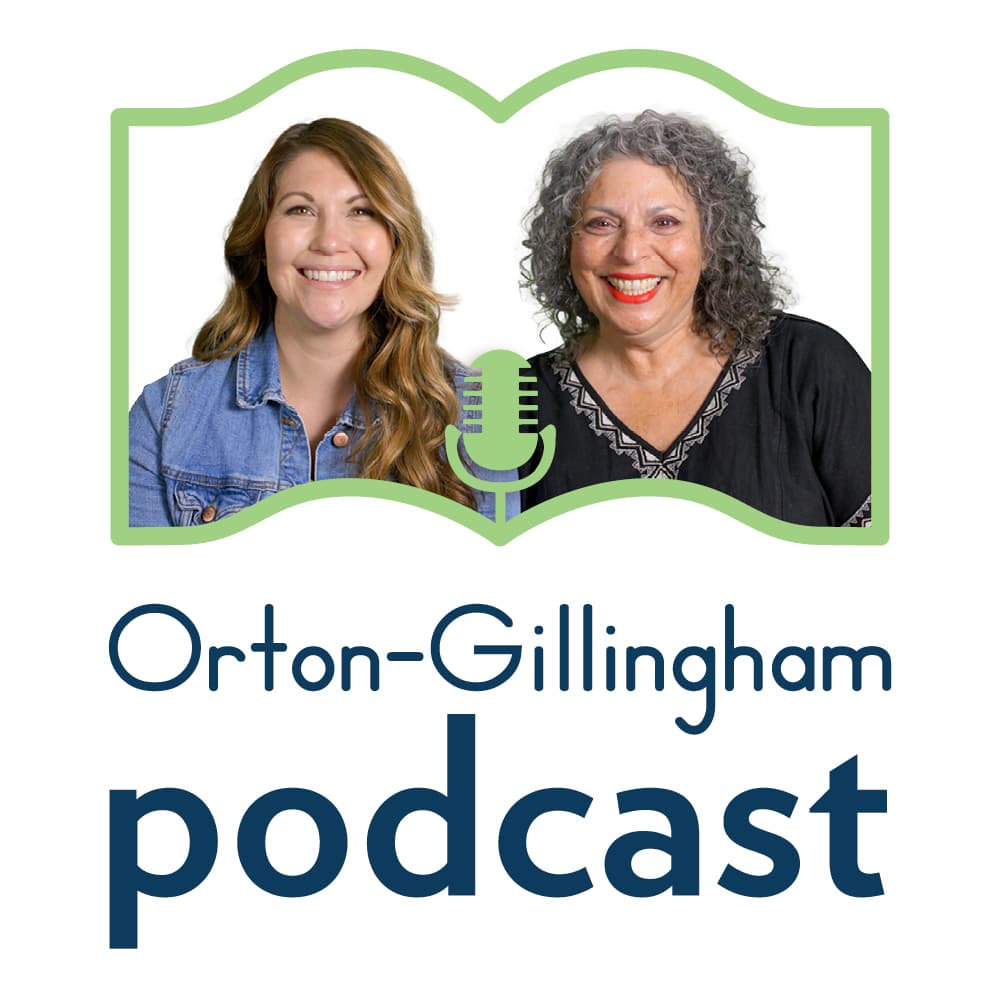 Hi! Welcome to The Orton-Gillingham Podcast where we chat about all things multisensory education, dyslexia, and how we can bring literacy to everyone! Our hosts, Esther & Katie, are educators and instructors for Brainspring. We'll be interviewing experts and answering your questions along the way.
Have a question for the podcast? Send it to podcast@brainspring.com!
DR. PAMELA MCCASKILL

In today's episode, we're chatting with Dr. Pamela McCaskill! Dr. Pam is a licensed psychologist and owner of McCaskill Family Services in the Metro Detroit area. She has more than 25 years of experience specializing in comprehensive evaluations for Dyslexia and ADHD. Dr. Pam joins us for our first Q&A segment to answer a listener question regarding dyslexia and math.

JEANINE CYRWUS & CHAD HODGKINS

Angelina, Esther & Katie interview two educators, Jeanine Cyrwus & Chad Hodgkins, about adapting multisensory lessons to virtual platforms. Jeanine is the Academic Coordinator for Language Arts at Oakwood School, a private school for students with language-based learning differences in the D.C. area. On the other end of the multisensory spectrum, Chad is a high school physics teacher with a lot of tricks up his sleeves to keep his students engaged.

KRISTEN KOSSOVER

In this episode, Kristen Kossover joins us from Arkansas where she currently serves as the Elementary Dyslexia/RtI Specialist for the Bentonville School District. She has written and provided training in the science of reading and achieved her certification as a Certified Academic Language Therapist, Structured Literacy Dyslexia Specialist, and Orton-Gillingham Dyslexia Specialist. We chat about the impact of dyslexia legislation in Arkansas and the benefits of multisensory education in all tiers.

LAURIE WAGNER

Today we're speaking with the Vice President of Brainspring's Educator Academy, Laurie Wagner! Laurie is the 2020 recipient of IMSLEC's Etoile DuBard Award of Excellence. She is also the creator of Brainspring's doubly-accredited Orton-Gillingham programs, Phonics First and Structures. Laurie joins our hosts to discuss how she first learned of Orton-Gillingham, why it became the focus of her 30 year career, and how the accreditation process works.

KIDSREAD2KIDS CO-FOUNDERS

In this episode, we're talking with Alana, Jacob, Julia, and Rueben, the co-founders of KidsRead2Kids, a non-profit organization that provides free literacy aids to children. These siblings produce video-audio books of other kids reading, chapter-by-chapter lesson plans, a magazine, a book club for teens to mentor younger students, and a community scavenger hunt to encourage literacy. We chat about what led them to create KidsRead2Kids, their personal experiences receiving multisensory tutoring, and what's next for their organization.

JACQUIE MORENO

We're chatting with Jacquie Moreno about the process of becoming a certified Orton-Gillingham Dyslexia Specialist (OGDS). Jacquie has worn many educational hats in her career before starting her current role as Brainspring's certification practicum supervisor. She has a wealth of knowledge regarding what's necessary to become a certified Brainspring OGDS, potential career benefits to achieving this certification, and how to use it to obtain further certifications.

 Contact Jacquie if you're interested in learning about Brainspring's nationally-recognized Orton-Gillingham Dyslexia Specialist program.

MARIANNA CIAMPI

Today we're chatting with Marianna Ciampi, a School Psychologist with more than 20 years of experience. We'll be discussing what's involved in psychoeducational evaluations and the unique vantage point inherent in the School Psychologist's job.

Marianna received her B.A. from Bowdoin College in Sociology, her Master's in School Psychology, and Certificate of Advanced Graduate Study in Literacy Education from the University of Southern Maine, and has been trained in Orton-Gillingham for 16 years. Her personal experiences with the highs and lows of the rollercoaster of parenting and teaching enhance her commitment to the work of advocating for students who struggle.

SAM BROOKS

This episode introduces our new host, Sam Brooks! Listen in to get to know Sam, hear some relatable education stories, and understand why she loves Orton-Gillingham.

After earning her Bachelor's of Science in Elementary Education from Kansas State University in 1991, she spent 28 years as a Special Education Resource Teacher for grades K-5. In 1994 Sam received her Master's in Special Education from the University of Central Arkansas. She first received Orton-Gillingham training in 2013 and went on to receive Therapist level credentials and a Dyslexia Endorsement from the University of Arkansas in 2014.

After retiring from the classroom, she joined the Brainspring Instructor team and has trained all over the country, helping teachers with knowledge and implementation. Sam lives in Fayetteville, Arkansas, with her husband of 29 years, Lee. She has two children, Lauren, age 24, and Zane, age 20.

CALVIN MANN

Today we're chatting with Calvin Mann, the President and Founder of Encourage Me, I'm Young (EMIY), a non-profit mentoring organization based in Detroit, Michigan. EMIY has served more than 20,000 children nationwide through its initiatives, including Good Fathers Only, Smash Suicide, Respect Day, and regular mentorship programs. Calvin and his team are currently working on their next program, "Reading is Life!" He is with us today to discuss the mission of EMIY and ways parents, mentors, and teachers can all work together to help the children in their communities gain literacy and become passionate readers!

DR. SALLI LEWIS

Our guest for today's episode is Dr. Salli Lewis, the Director of the Research Division for CReATE. Founded in 2007 by Dr. Lewis and her partner, Dr. Daniels, CReATE specializes in providing evidence-based evaluations and implementing applied clinical research. Dr. Lewis is a licensed clinical psychologist with expertise in evidence-based treatments and in assessing, identifying, and treating social-emotional, behavioral, developmental, and neurodevelopmental syndromes. She joins us today to discuss the research process as it pertains to multisensory education.