Posted by Brainspring on 18th Jun 2014
Hi everyone,
I have been analyzing a lot of spelling this week because I started with 2 new students.  Part of how I determine what skills students already have and what skills need to be taught is with a spelling assessment.  Today, I want to share some of the things that a spelling assessment can reveal.
Many teachers are unsure about where to begin in Phonics First.  I suggest giving an assessment because it will help you tailor your instruction to your students' needs.  You probably won't do this for an entire class, but it will be invaluable for your small intervention groups or individual struggling readers.   If you are using Phonics First, I encourage you to use the Phonics First assessment.  It assesses skills by Layer to help you determine which Layer the students should be in, as well as the specific skills they need to master in that Layer.  (You can find the assessment here.)
8 Observations
Keep reading even if you aren't using the Phonics First assessment because here I'll be discussing general observations that can be made from any phonetic spelling assessment.   Please let me know in the comments what more specific questions you have about assessments.  For now, I just want to share 8 observations I made from the assessment I did with one of my new students.
1)      Always start with a positive!  She hears beginning, middle and ending sounds; she did not leave out any vowels or beginning or ending sounds.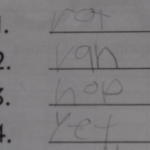 2)      She applies all the single consonants properly in spelling.  (From the sounds assessment though, I know I will need to work on cleaning up a few sounds so they are quick and crisp, without "uh" added on.)
3)      Proper placement and formation of letters going underneath the line needs to be addressed: g,j,p,y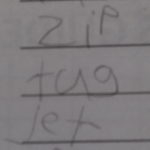 4)      B and D reversals will be something to pay attention to.  I was happy that she stopped a few times to ask which way a "b" or "d" faced, meaning she is aware that she needs to give these letters special attention.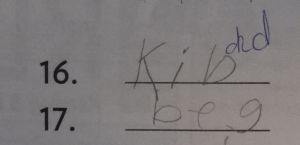 5)      She confuses 'g' and 'j', both the letters and the sounds.  (I got this partly from the spelling assessment and partly from the letters and sounds assessment.)

6)      She did a nice job with writing the proper short vowels.  Her few mistakes may have been that she didn't hear me properly.

7)      She is comfortable with the digraphs 'ch' and 'sh', which are tricky for many students.  I will need to teach 'wh' and that 'th' has 2 sounds.
8)      I want to check further to see if she knows when to spell with 'c', 'k', and 'ck'.
Where to Begin
From this spelling assessment and the other assessment pieces, I decided to start my student in the Layer 1 Plus lessons.  This will give me a chance to address the skills she has not mastered like 'g', 'j' and 'th'.  Also, while we are reviewing consonants she already knows, I will be able to address letter formation.  She has most of the Layer 1 skills already, so the Plus lessons will be great because they will give me time to "fill in the gaps", teach her the lesson procedures and make sure she is very solid in reading and spelling CVC words before moving on.
Please let me know how things are going with your students!  I'll keep you updated on all the things I am learning from my students as well.
Let me know in the comments below what requests you have for Multisensory Monday or what questions you have about assessing students.
Remember to like us on FB, follow us on Twitter and share us with your friends!