Posted by Brainspring on 3rd Mar 2016
Hi everyone,
In case you missed it- March is Reading Month! If you work in a school, have a student in school or were in school any time in recent history, then you already knew that. That means, for this month, your students have a dozen reading related assignments, contests, races, logs and records they have to keep.
Knowing that, I want to celebrate March is Reading Month with something different. This month, I want to share some Reading Heroes, people who inspire students to read and succeed.
Have a Reading Hero you think I should feature? Let me know in the comments below!
Dr. Seuss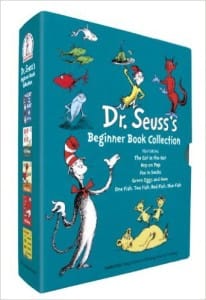 Choosing the first Reading Hero was hardly a contest in my mind. He is the official (or maybe semi-official) torch carrier for the first week of March in many schools: Dr. Seuss.
This article from The Daily Beast does a better job of giving some of the history and historical impact of Theodor Seuss Giesel than I can, so I'm going to skip that and share why I think Dr. Seuss is a Reading Hero instead.
Playing with Language
Dr. Seuss makes language fun! We all recognize how much fun his books are to read, but the impact goes beyond silly story lines. His books show students that language itself is something that can be played with, twisted and shaped to express whatever thoughts are in their minds, even the nonsensical ones.
Reading Dr. Seuss is one of the few times students are free from the "rules" that are usually the focus of reading, spelling and writing. Reading Dr. Seuss reminds me of working on rhyming with pre-readers. They delight in coming up with nonsense words that fit the pattern and rhyme with a given word. If I say "mug", I might very well hear students call out, "zug," "wug," and "gug" with smiles on their faces. Somewhere along the way this gets lost, so much so, that when I discuss teaching rhyming with teachers, they often ask, "What do I do if a student gives a made-up word? Does that count?" Yes!
Among a whole heap of other reasons, Dr. Seuss is a reading hero because he reminds adults and students alike that language exists to express our thoughts and ideas. We are only limited by our creativity.
What do you love about Dr. Seuss?
What is your favorite Dr. Seuss book?
Subscribe and share if you love reading!