Posted by Brainspring on 1st Feb 2018
Please welcome  Orton-Gillingham Weekly's guest blogger Tiffany Sunday!
Tiffany is an author, lecturer, and professional speaker who happens to have dyslexia. 
To help parents and teachers understand dyslexia, she shares the many things dyslexia can be.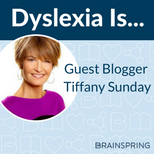 ---
Dyslexia is Many Things 
Dyslexia is discovering there is a reason why your brain doesn't like to spell or read fast like your classmates. 
Dyslexia is creating a work-around to solve a problem in third grade that spikes your confidence.  
Dyslexia is the purple grape sticker placed by a teacher who cares and sees the budding talent within a story full of missed spelled words. 
Dyslexia is the daily false starts, failed tests, and pure frustration that evolves into unbreakable persistence that becomes an invaluable character trait. 
Dyslexia is seeing the world differently and grasping complex concepts faster than your classmates.  
Dyslexia is saying "thingy" fifty times a day when your word retrevial systems is down.  
Dyslexia is observing subtle patterns others are unable see.  Using this strength, you develop a sophisticated SEO software program. 
Dyslexia is creative energy flowing endlessly day after day after day… 
Dyslexia is an old friend who tests your fortitude to then reward your patience with a visual intelligence unmatched by computers and non-dyslexics. 
Dyslexia is day dreaming at its best with a Steven Spielberg movie playing contentiously.  
Dyslexia is at times confusing; when remembering the simplest words or peoples' names feels more difficult than solving complex math problems.  
Dyslexia is a lifestyle full of adventure.  The benefit is found in the silver lining when others see only dark clouds. 
Dyslexia is the ground-breaking, new architectural building design. 
Dyslexia is a new scientific discovery. 
Dyslexia is a feeling that if I can't see it written on a whiteboard or piece a paper, my brain thinks it's gone! 
Dyslexia is dysgraphia and sketching notes in class or drawing your answers for a test. 
Dyslexia is wired for entrepreneurship. 
Dyslexia is connecting the unrelated dots that matter most. 
Dyslexia is unique to each individual, yet we are like a big family sharing common traits. 
Dyslexia likes to take the world literally.  
Dyslexia thinks at the speed of a Bugatti Veyron and only stops to sleep. 
Dyslexia is the big-picture glue that connects our world.  
Dyslexia provides businesses, big and small, a competitive edge through innovation and creativity.  
Dyslexia is the world visionaries, inventors, artists, scientists, designers, entrepreneurs, and innovators.  
---
This guest post has been written by Tiffany Sunday.   
Tiffany is an author, lecturer, and professional speaker. She is internationally known for her book, Dyslexia's Competitive Edge and TEDx Talk Dyslexia 2.0 The Gift of Innovation and Entrepreneurial Mind. Her books have sold in multiple countries including the United Kingdom, Italy, Japan, India, Norway, and Australia. Her upcoming new book releases include How Dyslexics Will Rule the Future and Never Again, She Said.
For more information please visit  https://www.tiffanysunday.com/. 
Thank you, Tiffany for sharing your experiences!