Posted by Stephanie Cork on 11th Jun 2015
Hi Everyone,
Today we have an article about accredited Orton-Gillingham-based programs.  Many people don't know that Orton-Gillingham isn't an program; it's an approach.  Many programs, like Phonics First,  use the OG approach.  The way to tell if a program is legit is to check if it's accredited.  Stephanie's article explains this and more.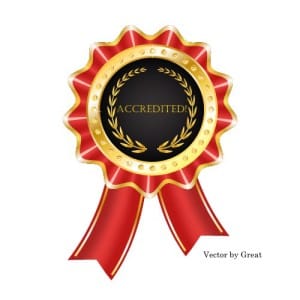 Dyslexia Specialist Training
 An Educator's Guide
There has been a lot of buzz lately in the education world about dyslexia, which affects as many as 1 in 5 children. Dyslexia is a neurological condition which affects fluent reading, spelling, and writing skills.  Remediating dyslexia requires training beyond what most teacher preparation programs offer.
To address these concerns, more than half of the states in the U.S have laws relating to dyslexia.  Most of these laws require early screening for students and training for teachers; however, the laws vary greatly by state.  These laws have prompted many schools and districts in those states to learn more about professional development courses focused on teaching dyslexic students.  It will not be long before the remaining states follow suit and also enact dyslexia legislation.
Many of the states with laws in place have a list of "approved" Dyslexia Specialist training programs.  These lists are an important place for districts and educators to start when selecting a training program because no one wants to spend their limited professional development dollars on coursework that does not meet the state's requirements.  The list of approved courses varies by state, but there is a common thread among many courses that top the list. These courses should be accredited by one of three outside organizations: The International Dyslexia Association (IDA), the International Multisensory Structured Language Education Council (IMSLEC), or the Academy of Orton-Gillingham Educators and Practitioners (AOGPE).  These three organizations review and accredit high-quality training programs for identifying and remediating dyslexia (additional details below).  Before a teacher or a district invests hundreds or thousands of dollars in professional development, they should consider whether the training program suits their needs and is accredited.
Advantages to Choosing an Accredited Orton-Gillingham Program
While there may be unaccredited training programs that provide acceptable content, there are many advantages to choosing a program that is fully accredited.  Perhaps the most important advantage of an accredited training program is the knowledge that the program has been thoroughly reviewed by an outside council to ensure depth and quality of course content.  This is important because some companies create their own program and their own internal certification process, yet these self-defined certifications mean that the program has not been reviewed by anyone outside of their own organization.  Therefore, self-defined certification programs may not meet all of the recommendations for research-based quality instruction.  Consequently, there is a strong advantage to selecting a training program that is accredited by an over-seeing organization.  Accrediting organizations, including those found below, have an extensive review process to ensure their programs meet the highest standards in dyslexia education.
Another advantage to selecting an accredited program from the outset is that teachers are able to expand their program-level certification by receiving an additional nationally recognized certification. Many teachers do not initially intend to complete certification, but as they see students achieve significant academic progress, they often want to pursue full certification. This is only possible if the initial course was accredited or if they retake an initial course from an accredited program. We encounter many teachers who want to become certified only to find out they cannot receive a nationally recognized certification because the initial course they took is not accredited.
Accrediting Organizations
Three main organizations provide accreditation and guidance to help teachers and districts locate accredited dyslexia-related training programs.  Each organization's goal is to ensure high-quality, accredited dyslexia training.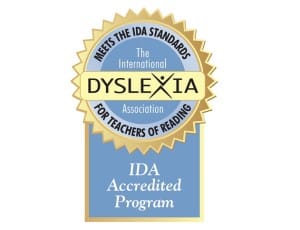 The International Dyslexia Association (IDA) offers two levels of  Tier III certification, the highest level of IDA accreditation. Certified graduates of IDA accredited programs will be eligible to sit for the IDA exam and receive IDA certification available beginning in 2016.
Dyslexia Practitioner level – requires a bachelor's degree and includes a minimum of 45 hours of additional coursework and a 25 week supervised practicum
Dyslexia Therapist level – requires a master's degree and a minimum of 200 hours of coursework and a 50                                                  week practicum.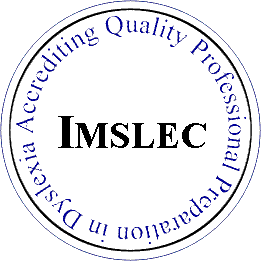 The International Multisensory Structured Language Education Council (IMSLEC) accredits quality MSLE training courses, many of which are based on the Orton-Gillingham methodology and other derived or closely-associated program approaches.  These training programs must offer both extensive coursework and a critically important supervised teaching practicum that leads to professional certification. Many of the training programs are independent, post-secondary training programs offered through various universities or independent organizations.
IMSLEC-accredited programs offer up to four levels of Dyslexia Specialist training, so teachers who would like to pursue additional training may do so.  While individual program requirements vary, minimum requirements for certification include:
Teaching Level – 45 hours of coursework, 60-hour supervised teaching practicum, and 5 observations/demonstration lessons.
Instructor of Teaching Level – 90 additional hours of coursework, 600-hour supervised teaching practicum, and one supervised cycle of teacher training.
Therapy Level – 200 hours of coursework, 350- to 700-hour supervised teaching practicum, and 10-20 observations/demonstration lessons.
Instructor of Therapy Level – Therapy-level coursework and 2,100-hour supervised teaching practicum over a 2- to 3-year internship period.

certifies individuals who have demonstrated competence as practitioners and educators of the Orton-Gillingham Approach. The Academy certifies individual members at one of four levels:
Orton-Gillingham Classroom Educator (OGCE) – 35 hours of coursework; 50- hour teaching practicum; 5 observations
Associate – 60 hours of coursework, 100-hour teaching practicum, 10 observations
Certified – 160 hours of coursework, 300-hour teaching practicum, 20 observations
Fellow – 250 hours of coursework, 600-hour teaching practicum, teaching and supervising internship
An additional benefit of selecting an accredited program is that all individuals who are certified in a program accredited by one of these three organizations are also eligible to take a nationally recognized exam which leads to certification through The Academic Language Therapy Association (ALTA).  ALTA certifies individuals at four certification levels similar to IMSLEC's accreditation levels.
 Who Should Become Certified?
The amount of dyslexia training needed may depend on the educator's current teaching position and goals.  Not all teachers in a school or district need to have certification.  For example, a classroom teacher can successfully impact many students with a 30-hour course and on-site classroom coaching guidance from a course instructor. However, those teaching in areas with many students who have significant needs may opt to become fully certified. Interventionists, Reading Specialists and Special Education teachers should become certified at the Teaching Level or equivalent in order to fully meet the needs of dyslexic and learning disabled students. Schools or districts may want to have someone certified at the Instructor of Teaching or the Fellow Level so that they can provide in-district training to their staff.
Online Training (E-Learning) Certification Restrictions
Many Dyslexia Specialist training programs offer online E-learning courses; however, the role of E-Learning in acquiring accreditation and certification is a changing subject.   Not all accrediting organization accept online coursework for certification.  Online coursework is not accepted because of the intense level of skills each participant must demonstrate throughout the learning process. Movement towards the inclusion of some portions of E-learning in the certification process is being explored by some organizations.  Therefore, the use of E-Learning is an important consideration in selecting the kind of course delivery method in which you participate.
Additional Considerations
There is a lot to consider when choosing quality Dyslexia Specialist training.  When looking for courses, it is important to ask questions about the program.  Some possible questions include:
Is the training program accredited by IDA, IMSLEC, or AOGPE?
Does the training follow MSLE methodology?
If a class is not offered in my area, will you send an instructor to my district or school?
Does the cost of training include teacher and student materials?
Does the training focus only on learning the general methodology and strategies and teachers must find their own curriculum or does it include its own curriculum and materials for teaching students?
How flexible is the program? Does a lesson need to be taught all at once or can it be broken up into segments of instruction?
Is the curriculum designed only for one-on-one instruction or is it flexible enough to be used whole-class, small-group and one-to-one?
 Addressing the needs of the dyslexic learner is a complex task. Educators charged with the instruction of dyslexic students must be fully prepared to meet the unique challenges of these students' learning styles.  Choosing an accredited program with a supervised practicum and demonstrated results is a key consideration in ensuring teacher expertise and student achievement.
Stephanie Cork, CALP CDP Director of Program Development
Laurie Wagner, CDP Director of Education
Brainspring Educator Academy
www.brainspring.com

Learn more about Phonics First, Brainspring Educator Academy's accredited Orton Gillingham program here.
Remember to like us on FB, follow us on Twitter and share us with your friends!