Posted by Brainspring on 6th May 2021
My husband and I have been blessed with four children: two sons (ages 21 and 18) and two daughters (16 and 13). All of our children have experienced public, private, and home school. For the last 21 years, these learning challenges have been in our home: ADD, Auditory Processing Disorder, Dyslexia, Irlen Syndrome, Language Processing Disorder (including comprehension), and Second Language Acquisition Challenges.
To keep my own family sane (I was constantly sharing too much information about learning challenges), I created a Facebook page, "Write" Brain for Dyslexia. This page became my outlet, and now it's provided me with evidence of my youngest son's immense growth.
It's been a journey, and in a few days, another chapter will end. Our youngest son (pictured here) is graduating and will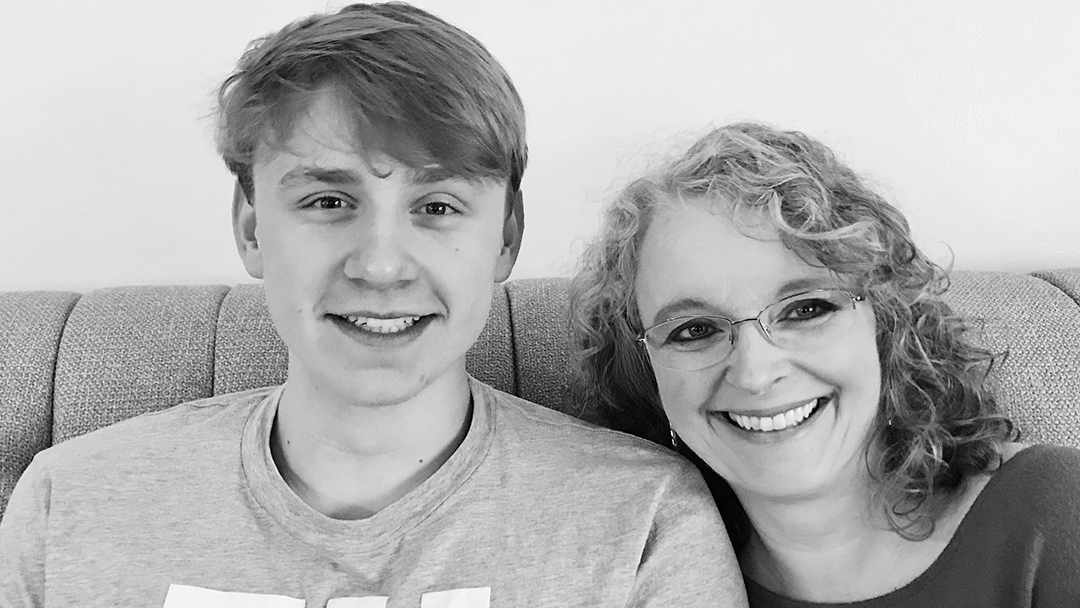 be attending a college in the Midwest this fall. There were many long days where I thought "we" were not going to make it because, by the time he was 12, we were figuring out how to navigate a world with dyslexia, dyscalculia, dysgraphia, and written expression.
This week, as I prepare for our son's graduation, I realized that the bumps and roadblocks of his learning journey have now become nuggets of wisdom that I'm glad are saved and available to check out in moments like these. Below are revised Facebook snippets that I hope will encourage you, especially if you find yourself on a similar trail.
Our Journey
When our son's dyslexia was discovered, his positive self-esteem was pretty close to nonexistent. I am his mother first, teacher second, so here are my priorities:
#1: Develop his talents and skills,
#2: Create learning that develops positive self-esteem,
#3: Teach him to read, spell, write, and do math based on his needs, not on my personal preconceived ideas about education.
"How can you say that our son will be lucky if he graduates from high school?" I heard this several times from different educators, including psychologists. My personal mantra became, "If he chooses not to go to college, it will be his choice. Others cannot determine someone else's pathway in life just because they were uneducated about dyslexia."
Hello, scripted Orton-Gillingham! Where have you been all my life?  Today, our son knows all his letters and sounds and can write and say them quickly!  The spelling is coming along, too. His punctuation skills are another story . . .
Do not give up, parents! Your child can learn to read regardless of the learning issues. After drying many tears while our son would painfully read at a slow, stuttering pace, he just read two challenging chapters with fluency! His perseverance has paid off, and mine, too.
Can learning cursive really improve writing fluency? Well, for our son, it did not help. He continued to struggle with reversals. Setting aside my own preconceived ideas about handwriting, my goal for him was to communicate fluently. So, typing it is! Both Dancemat and Mavis Beacon are working well.
Graphic novels are working well. The text is easier to read, but the ideas are the same as the original text (classics & Shakespeare). Then, I use audiobooks services such as Learning Ally; he still has to follow along in the book, though!
Technology is now his best friend!  Our son is so eloquent when verbally expressing his ideas. Look out speech to text; here we come!
"Mom, it would have been terrible if you had named me Reed." Our son has finally embraced his dyslexia. Those of you who have children with dyslexia teach them to love themselves and laugh often.
Yikes, the last step for our son: to write essays! Thank you, IEW, for teaching writing systematically. I can use this curriculum with science and history; his note-taking, summary writing, and comprehension skills are improving with it, too.
What? Our son now wants to sign his name in cursive on his license!? We have been using Handwriting without Tears (Cursive) and practicing the auditory drill, in cursive form, using the sand, air-writing, and other tactile surfaces. Guess what? You are now looking at our new licensed driver who has just signed his name completely in cursive! Way to go, son!
Analytical Grammar to the rescue! Finally, his college essays demonstrate the correct grammar usage and punctuation!
Our son has just finished a college presentation about dyslexia and how this learning disability is really a gift. The most surprising part is he's pulling an A in his college writing class! Sure, he gets his writing done in a nontraditional way and listens to his college textbooks via audio. But he is making it, and your child will, too!
Advice to Parents
Now, in looking back over the last 18 years with our son, I hope that these experiences leave you encouraged. Not everyone is able to homeschool, but please do not assume that your child's teacher, including those in special education, knows how to teach to a specific learning disability. Below are some questions I recommend asking educators as you advocate for your child:
Have you been trained in Orton-Gillingham, and if so, what curriculum do you use?

Have you taken classes on the Science of Reading and Phonemic Awareness?

What accommodations will be provided for reading, handwriting, spelling, writing, and math?

Decoding Skills: What is your experience with Syllabication and Morphology?

Will you be able to provide weekly progress monitoring reports using Dibels, Aimsweb, or easyCBM?

What is the most recent book you've read about dyslexia?
---
Written by Jennifer L. Padgett, M. Ed.
Jennifer is a Structured Literacy Specialist, K-12 in Mexico, Maine.
Brainspring has proudly supported the educational community for more than 25 years.
The Learning Centers support students through one-on-one, multisensory tutoring sessions. Learn more about our in-person (available in Southeast Michigan) and nationwide online tutoring.