Posted by Brainspring on 27th Jul 2014
Hi everyone,
Welcome to Multisensory Monday!  Today's activity is for practicing when to use c or k at the beginning of a word.  This is my favorite kind of multisensory activity to do because it is simple and straightforwardly addresses a specific skill.  Even the title is simple and straightforward- "C or K?"
I find the concept of when to spell with c or k is often overlooked, although it is a basic spelling skill.  We use explicit instruction to teach phonics to our struggling readers; they need explicit instruction in spelling as well.  The rule is that c comes before a, o and u, while k comes before i, e and y.  You can print the Cat and Kite posters off RLAC's website it the members area to display in your classroom.  When I teach about spelling with c and k, I have my students make their own posters.  I also encourage them to redraw the mnemonic pictures at the top of their paper when they need to remember which letter to use.
This multisensory activity is one I use after I have already taught about when to spell with c and k individually.  The amount of time I spend on teaching this concept varies by student.  With one of my students, it took 3 lessons: spelling with c, spelling with k, deciding if the word uses c or k.  With another student, the same material took only one lesson.
C or K?
The supply list couldn't be simpler.  You'll need markers, paper, scissors and 2 colors of construction paper and glue.
Cut 5 small squares out of each color of construction paper.  Write "c"s on one color and "k"s on the other.  (I made the colors correspond to the color of construction paper my student made their Cat and Kite posters on in previous lessons.)
On the blank paper, make a list of word endings that begin with c or k.  Use RLAC's Phonics First Foundations Manual to be sure the words used are words the student will be able to read.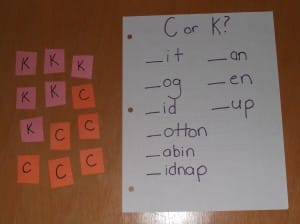 The student decides if each word will begin with a c or a k.  They should look at what vowel comes after the c or k to decide.  It may be helpful to have the Cat and Kite posters up for the student to refer to, or have the student draw the mnemonic somewhere on the paper.
Finally the student glues the letters in place and reads the words.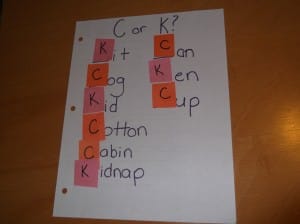 Syllable Park
This multisensory activity from Dite at Ladder Learning Services (http://atlantareads.org/) is simple, cute and a fun way for pre-readers to practice identifying the number of syllables in words.  Students "park" picture cards of various modes of transportation in the parking space numbered with the correct number of syllables.  Wouldn't young children just love this!  And the activity is free to print!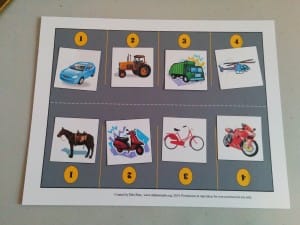 http://atlantareads.org/2014/07/multisensory-monday-syllable-park/
Remember to like us on FB, follow us on Twitter and comment below!
It's almost August and time to start getting ready for the upcoming year.  How can I help you feel more prepared to help struggling readers in your class?
What area of Phonics First would you like a quick refresher on before the new school year starts?
What ways do you plan to try incorporating Phonics First into your classroom this year?