Posted by Brainspring on 4th May 2014
Hi everyone,
Today is a big day.  You'll be getting two activities for Multisensory Monday instead of one!   I am so excited to introduce you to other activities and resources from Dite Bray, founder of Ladder Learning Services.   I'll be adding a description and links to her multisensory activity at the end of the post.
Ladder Learning Services LLC was established in 2009, offering tutoring in the Atlanta area.  Ladder Learning Services uses the Orton-Gillingham method of instruction for both dyslexic and non-dyslexic students who are struggling with reading, writing, spelling, handwriting, and math.  After starting the company, Dite moved and now tutors in the Santa Fe area.  Once you read her bio, you'll see why I am so happy to get to share her ideas and experience with you.
"Bio: Dite has been tutoring students of all ages and using multisensory methods for over six years. As a child, she was diagnosed with dyscalculia (math disability) and she attended Linn/McLeod Academy, a school for children with learning differences. At her school, there were many dyslexic children, so they taught everyone to read and spell using the Orton-Gillingham approach. She was trained to teach Orton-Gillingham through the program at the Wisconsin Institute for Learning Disabilities and Dyslexia in Madison, Wisconsin in 2008. She graduated with a Master's in Social Work from the University of Wisconsin-Madison in 2007, and has a B.A. from UW-Madison as well (2003). She is passionate about helping children and adults with dyslexia, ADHD, and other learning challenges realize their potential, and about helping young children set a lifelong foundation for learning. Dite founded Ladder Learning Services upon moving to Atlanta in 2008 with her husband, David. In addition to tutoring, Dite also worked at Buckhead Preparatory Preschool in Atlanta as a reading specialist for 3 years. Dite and her family re-located to Santa Fe, New Mexico in November 2013. She continues to tutor students online and at her home in Santa Fe."
Check out more:
http://www.santafereadingtutor.com/
http://www.facebook.com/LadderLearning
As I mention every week, it is important for us to work together, sharing effective strategies and getting the word out there about dyslexia and how to help struggling readers.  I'm hoping to bring you more insights and knowledge from others in the field, as well as doing my best to bring you useful ideas and information myself.
Jellybean Jewelry
I promised more leftover Easter candy activities, so here is another one for all those jellybeans.  This is a fun craft for Lesson 1-18-j.  I find it especially important to have a memorable multisensory for this lesson because j is a tricky letter for many students.  Make sure that after doing this activity, you add a picture of jellybeans on your card as a visual reminder to the students.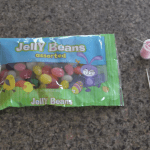 To make Jellybean Jewelry, you'll need jellybeans, toothpicks, a needle and thread.  I used a large, blunt leatherworking needle to avoid pricking myself.  For young students, you may want to consider using plastic lacing needles.  Many craft stores carry them, or you can order them online (on Amazon there is a 40pc set for $5.17).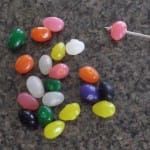 This activity does take a little bit of prep work.  I suggest poking a hole through the jellybeans ahead of time.  If you are working with older students, they may be able to poke the holes as they make their jewelry, but young ones will have a hard time.
To make a bracelet, thread the string through the needle and tie the two ends together.  Then the student simply strings the jellybeans on the thread, like beads.  For an added multisensory experience, the student can say "j /j/" as they string each jellybean.  Their hands and the needles will get sticky, so be sure to have wipes on hand.  When the student has strung enough jellybeans to fit loosely around their wrist, tie the ends together and cut off the excess.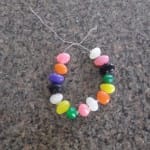 Voilà!  A colorful, edible, fun bracelet.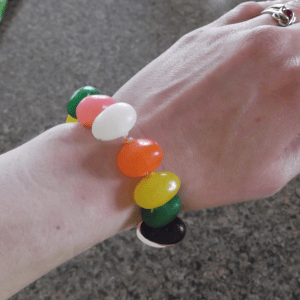 Sand Tray Ideas
From Dite this week is a short video about how she uses the sand tray as a tutor.
It's a little different from how we use them at RLAC, but I really like her ideas for teachers who may not have the RLAC sand trays with Magic Sand available.
(A quick reminder for those of you using Phonics First, we use the sand trays during the auditory drill.  The student should say the name of the letter as they write it; then underline and say the sound.)
She also brings up a great point in mentioning the sand tray for handwriting.  Watch that your students are properly forming their letters in the sand.  This will reinforce proper letter formation.
Thanks to Dite for joining up to bring even more senses into Multisensory Monday!
Please comment with what kind of multisensory activities you would like to see soon.  Also, please email me your Phonics First success stories.  I know I love hearing a happy ending, and I'm looking forward to sharing your positive experiences!
Remember there won't be a post this Thursday, but check back next Monday!
In the meantime, like us on FB, follow us on Twitter, and comment here.