Posted by Tammi Brandon on 22nd May 2017
Are your students tired of doing the traditional blending drill? Why not change it up a little with this fun alternative?
The blending drill, of course, is a crucial element of the Phonics First® Three-Part Drill. Because of that, we want to continue to use the blending drill as part of each lesson. How we implement the drill, however, may be changed so that it is more appealing to students.
One of my favorite ways to do the blending drill is with dice. I simply write letters on wooden or foam blocks and have the students roll the dice, arrange them into consonant-vowel-consonant order, and read the words.  Based on student needs, you can use single consonants, consonant blends, single vowels, vowel teams, bossy-r, or whatever needs extra blending practice. I have even written syllables on dice and had students practice reading multisyllabic words.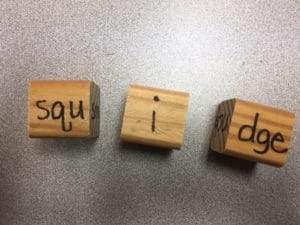 *One note of caution- Just as with the Blending Drill, make sure to ONLY use concepts you have introduced.
Tammi Brandon, M.Ed., CDP
Tammi Brandon is a Master Instructor and Education Consultant with Brainspring Educator Academy.