Posted by Brainspring on 11th May 2015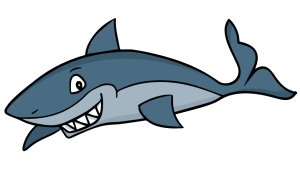 Hi everyone,
Welcome to Multisensory Monday!  It's great to be back with you this week.  My vacation was fantastic, but I missed sharing ideas with all of you.  What did you think of the video where Ingrid demonstrated how essential phonics skills are for fluency and comprehension?  Isn't she amazing?
Today's post includes 2 ideas for digraphs.  One for sh and one for ch.  Digraphs are tricky for students, so it never hurts to have plenty of ideas in your phonics toolkit for them!
Draw a Shark
My activity this week is related to the Phonics First keyword "shark" for the digraph sh.  My examples are specifically for "shark", but as you'll see in a moment, you can easily take this idea and use it for almost any lesson with a keyword.
I like turning the sh phonics lesson into a drawing lesson by giving my students step-by-step instructions for drawing a shark.  As I mentioned, you can use this with any lesson's keyword, though I highly suggest trying it out with "shark" because students think they are so cool to draw and you can easily find instructions for various artistic skill levels.  My artistic skill level is close to 0, so my students also get a kick out of watching me try and draw a shark along with them!
All you'll need is a pencil, a sheet of paper and some how-to instructions for drawing a shark.  A quick Google search for "how to draw a shark" will yield pages and pages of instructions to choose from.  Try one of the video tutorials if you have access to a computer or tablet.  This one by Art for Kids Hub is my favorite:
Or go completely low tech and print out the directions from a webpage.
http://www.my-how-to-draw.com/how-to-draw-a-shark.html

This one doesn't include any text; it just shows step-by-step which lines to draw, making it a great choice for a phonics lesson with a beginning reader.

http://www.wedrawanimals.com/how-to-draw-a-shark/

I often use this one that shows the lines and has text directions.  I like using this one as a following directions mystery game.  I don't tell the student what they are going to draw; they just follow my directions as best as they can and (hopefully) they have a shark at the end!

http://www.wikihow.com/Draw-a-Shark

WikiHow gives 4 sets of instructions and images for drawing different kinds of sharks.  The first one, a cartoon shark, is fun for students who have a little more artistic ability.
You can even look up instructions for how to draw specific sharks, like hammerhead sharks or great white sharks, for students who have a favorite kind of shark.
What other keywords can you think of using this idea for? 
I'm also going to try it with the Phonics First keyword for er: monster.
CH Chain
Looks like Dite and I both had digraphs on our minds this week.  Check out her blog for directions on how to make a ch chain to practice the /ch/ sound.  She includes several example word lists to use depending on the student's level.  She has lists of simple CVC words, lists that include blends, and lists of 2 syllable and challenge words.
http://atlantareads.org/2015/05/multisensory-monday-ch-chain/
This is an activity you'll want to keep in your toolkit since many students have a difficult time with digraphs, even after they have mastered most other basic skills.
Remember to like us on FB, follow us on Twitter and share us with your friends!