Posted by Brainspring on 1st Dec 2014
Hi everyone,
Today is quite the Monday: Cyber Monday and Multisensory Monday!  There is an awesome Cyber Monday sale going on at shop.rlac.com.  (By the way, I also just got some great deals at Kohls.com.)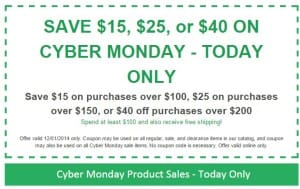 Since many of us are going to be busy shopping for online deals, today's multisensory activity is going to be quick and simple.  I can't take credit for this idea.  It came from a 1st grade teacher I was lucky enough to get to see in action when I went to her classroom for Phonics First coaching a few weeks ago.  Her idea takes the classroom Word Wall from being a static reference to a multisensory, interactive experience for students.
Walking Word Wall
The idea is so simple, yet it offers so many benefits.  Instead of attaching words to your classroom Word Wall with staples or sticky putty, attach them with Velcro!  Invite the students to walk over to the Word Wall, pull off the word they need, take it back to their seat, and then put it back on the wall when they're done.
Why do I love this idea so much?
It is a productive way to build some movement into the classroom, especially during writing which is usually a sedentary activity.  If a student needs to get up and stretch, going to the Word Wall becomes the perfect reason.  Students are also going to be practicing all the skills a Word Wall is meant to encourage, such as alphabet skills, letter sound correspondences and word recognition.
An added bonus is also that students have a better chance of copying the word correctly if it is right in front of them at their desk.  Copying from the wall across the room can be challenging for some students.  It can also be challenging to scan the wall from their seat, looking for the word they want.  With the Walking Word Wall, students can get up close to words and the Word Wall becomes an interactive part of the classroom.
Please share if you have done something similar in your classroom.  Have you found it beneficial for the students?
Comment here with other ideas for creating a more active classroom environment.
Open, Closed, and Magic-e Syllable Sort
Dite also has a short and simple activity this week to help students practice identifying 3 different syllable types.  On her blog, she has free links to the sorting mat and word list!  http://atlantareads.org/2014/12/multisensory-monday-syllable-sort-oce/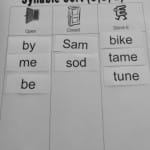 There is also a paid version on her TPT store with nonsense words and words using blends.
Remember to like us on FB, follow us on Twitter and share us with your friends!