Posted by Brainspring on 3rd Aug 2014
Hi everyone,
Welcome to Multisensory Monday!  As I mentioned, I spent last week training a fantastic group of teachers in Ohio who inspired me with their infectiously fun attitudes and creative multisensory ideas.  I was able to capture a few moments in these pictures.    To any teacher from that training reading now: thank you for an awesome week. 
Today's multisensory activity, Wild Old Ranch, is based on a teacher's idea from that training.  It goes with Phonics First Foundations Lesson 2-23 Wild Old Word: ild, old, olt, ost, ind.
Wild Old Ranch
This activity can be used with individual students or pairs.  You'll need to print a set of Wild Old Ranch word cards and Wild Old Ranch headings.  If you have one, a western style hat really tops off this activity, but you don't need one.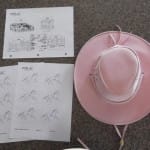 The basic idea is to read the horse word cards and sort them under the proper heading.  Make it fun for the students by explaining, "Oh no!  The horses at the Wild Old Ranch have run off.  As the horse wrangler, it's your job to make sure they each get back to their place on the ranch.  When you draw a horse card, read the word on the card and decide if they horse belongs in the corral (ild), in the stable (old), at the river (olt), on the woods trail (ind) or in the meadow (ost)."
Students then pull the horse cards out of the hat, read the word, and sort under the proper heading.  If playing with pairs, students can take turns or work together.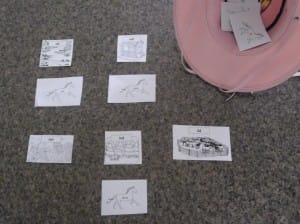 Please email or comment with things you could use a quick refresher on before schools starts again.
I have already gotten Red Words as a suggestion, so check back soon for a refresher on Red Words!
Remember to like us on FB, follow us on Twitter and share us with your friends!