Posted by Samantha Brooks on 12th Mar 2018
Welcome to Multisensory Monday!  Today's activity is simple and will add some "zip" to the basic short vowel intensive. While having some fun, students will enjoy practicing short vowels! Before students can decode and encode using short vowels, phonemic awareness must be secure.  This activity will help develop the foundational skills needed to work with print.  Keep in mind, it is important to only include short vowel sounds that have been previously taught from the Phonics First® or Structures® programs.
Materials Needed:
*Short-Vowel Booklet- Download 
 

* Sturdy ZipLoc Bag
 Multisensory Activity:
To begin, place the "Printable Student Picture Card" into the Ziploc baggie.  To play, the teacher simply calls out a short vowel sound and students simply slide the zipper across the top of the bag, stopping at the vowel they hear. After landing on the correct vowel sound, students can repeat the vowel sound orally. If you have not yet covered all the short-vowel sounds on the page, simply cover the vowels you are not using with a sticky note.

Scaffold instruction by using real and nonsense words in the following sequence:
Level 1 - Vowels (call out a short vowel sound only, such as /a/)
Level 2 - Vowel-Consonant (call out a short vowel, followed by a consonant, such as /at/ or /oz/)
 Level 3 - Consonant-Vowel-Consonant (call out a consonant, short vowel, consonant word, such as /hop/)
I find my students love this activity, and frequently ask ...
can we play "Zip It"?
Samantha Brooks, MSE,CDP
Samantha Brooks is an Instructor at Brainspring Educator Academy.
---
Brainspring Orton-Gillingham helps teachers bring multisensory instruction to the classroom, transforming struggling K-12 readers into skilled learners through our effective, evidence-based approach.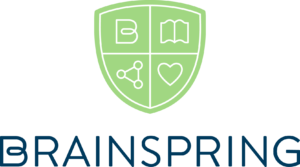 For more information please visit brainspring.com or call 1-800-732-3211