Posted by Esther Moreau on 23rd May 2018
In English, some words follow the rules and are phonetic. Some words do not follow the rules and are not phonetic. A word that does not follow the rules is called a Red Word. In this video, we briefly explain some key points in how to teach Red Words using a multisensory tool. Below is an outline of the video.
Orton Gillingham Multisensory Tools: The Red Word Screen
Why Do We Use the Term Red Words?:
When we think of the color red, we probably think about something that makes us stop and pay attention.
What is a Red Word Screen and How Do We Use It?
Students …
Use specific tools when learning Red Words, and one of the tools is a Red Word screen.
Vocalize Red Words in a sentence with classmates. Furthermore, students also discuss why the Red Word is not phonetic.
Write the Red Word on a strip of paper which is laid out on top of the screen.
Trace their finger over the letters and say the letter names. The letters will feel "bumpy" which creates a tactile and multisensory experience.
"Load and arm tap" words three times, trace in the air three times, and write on the table three times, consequently engaging gross motor movement.
At the end of the process, students write the Red Word eighteen times, and as a result, activate their muscle memory to remember how to spell that word. Most noteworthy, these words do not follow the rules, and must be memorized!
Enjoy!
Written by Angelina Spiteri-Bender, CDP
Angelina is an Instructor at Brainspring Educator Academy. She is also the director of Brainspring's Grosse Pointe Learning Center.
---
Bring Brainspring Orton-Gillingham multisensory instruction to your classrooms, transforming struggling K-12 readers into skilled learners through our effective, evidence-based approach.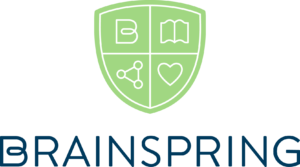 For more information please visit brainspring.com or call 1-8007323211