Posted by Samantha Brooks on 4th Mar 2020
Each year at the beginning of March, school children kick off National Reading Month by celebrating the birthday of the beloved Dr. Seuss. March also opens up the time of the school year that kids need a little excitement. They tend to get a bit sluggish from coming out of the winter months and in that time before "Spring-Fever" hits.
Below are ten creative ideas to liven up classroom environments and promote the importance and joy of reading!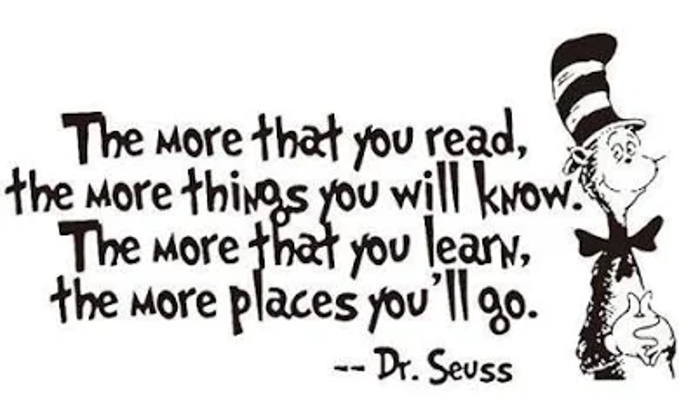 Hand out bookmarks
Kids love personalized bookmarks! Let them decorate their bookmarks with stickers. Add a sticker for every book they read!
Make time for game time
Save 15-20 minutes every week for your students to have game time in the classroom. Bring in new board games each week. Most board games incorporate reading, or you can add in a reading aspect. For example, prior to playing Connect Four, choose a book that you want to read. Every time you place a red or black chip into the game board, the student will read a sentence or paragraph in the book.
Listen to audio books
Have your students vote on the audio book they want and provide time to listen to it every day. When decoding skills can hinder exposure to great stories, audio books make it possible for all students to enjoy them. This is an excellent way to increase vocabulary and comprehension skills.
Allow chewing gum for a day
Gum is usually off limits in the classroom, so it's an especially appealing reward for kids. It may also increase focus!
Story walks!
A Story Walk is an innovative and delightful way for students to enjoy reading and the outdoors at the same time. Some preparation is required ahead of time. Place numbered signs along a predetermined path or along the perimeter of the playground. Place students in small groups or partner pairs. As they walk, the number on the sign will direct them to read that part of their story.
Create a classroom lending library
This idea is inspired by the Redbox movie kiosks. Let's call them Readbox kiosks. Kids can "rent" a book each night and return for free!
Have Book Talks in your classroom
A Book Talk is a short presentation based on a book that a student has read. It is a commercial for the book, in which the student's goal is to pique the curiosity of their peers to read the book!
There are three main parts to a Book Talk – The Hook, The Content, and The Cliffhanger.
The Hook – To start their Book Talk, students should grab their audience's attention right away! They could do this with a powerful quote from the story. Students could introduce the main character or vividly set the scene for the class. They could also hook their audience by asking a question. Let them get creative!
The Content – Next, they need to share what their book is about. This is where they provide the details from the novel and summarize the plot. They could even share a brief excerpt from the story.
The Cliffhanger – Finally, students need to end their Book Talk with a cliffhanger. They should leave their audience wanting more, but need to be careful to not give away the ending!
Example script to get kids started:
Introduce yourself: Hello, my name is …
Introduce the book: I have a great book to tell you about (title, author) …
Give a summary: (Shh, no spoilers!) This book is about …
Make a connection: This book reminds me of …
Give an emotion: This book made me feel …
Share favorite part: It was so awesome when …
Make a connection: You should read this because …
Make a recommendation: If you like [insert title of another great book] you will love this book!
Tell where to find it: You can find this book in our school library. Check it out!
I have my students present Book Talks once a month.
Offer homework passes
Try giving kids a day off of homework when they meet a reading goal. More time for reading!
Have lunch with the teacher
You can do this as an individual award for a really big goal, or as a small group award. Let students eat lunch in the classroom with you or join them at their table in the lunchroom.
Book Buddies!
Offer a book buddy to read to, like a favorite stuffed animal! You could also partner up with a lower grade class in your building and have your students read to live book buddies!
I hope you enjoy these ideas to spice things up in the classroom and keep reading momentum going strong!
Written by Samantha Brooks, MSE, CDP
Instructor, Brainspring Educator Academy
---