Posted by Brainspring on 27th Oct 2015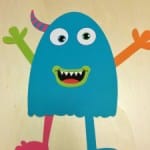 Hi everyone,
Looks like it's Multisensory Tuesday this week, instead of Multisensory Monday. On Monday, I was finishing up Day 5 of the Phonics First Foundations course with a great group of teachers in Michigan. Day 5 is always a good day because we talk about reading and the brain: how good readers's brains work compared to dyslexic readers' brains and how effective teaching can actually change poor readers' brain patterns.
Share or Like this post if you're interested in learning more about reading and the brain in an upcoming post!
Monster Words
While I was having fun answering my teachers' final questions and explaining the final pieces of Phonics First, Dite was sharing a multisensory activity to help students with the 1-1-1 Doubling Rule and the E+Suffix Rule. In her activity, Monster Words students work on building a monster as they identify the base word from a "Monster Word List."
So cute! Sometimes words that change their spelling with suffixes are real "monsters" for students to read and spell!
Check out the full activity here.
Share Your Favorite Activities
Dite's activity is one she shared from a tutor she works with in Georgia. I would love to share ideas from any of you as well! If you have an activity you or your students really enjoy, please email me. Tell me about yourself, the activity and include pictures, if you have them. There are so many fantastic tutors and experienced teachers reading the blog, that it would be awesome to share things you have used make phonics engaging and fun for your students.
Remember to like us on FB, follow us on Twitter and LinkedIn and share us with your friends!