Posted by Autumn Templeton on 9th Jan 2020
In many school districts nationwide, cursive handwriting is making a comeback, and rightfully so. There are many reasons to encourage cursive penmanship with your students. Cursive writing, when compared to printing, is simply more beneficial because the movements are more specific, the letters are less conventional, and visually, it creates a larger collection of letter symbols.
When printing, some children find it difficult to define where one word ends and another word begins. Since letters are linked, it is easier for those students who struggle with spatial awareness, to see word breaks because the link breaks. Cursive handwriting also helps with spacing within words themselves. Again, because the letters are linked, inappropriate spacing between letters within words is less likely.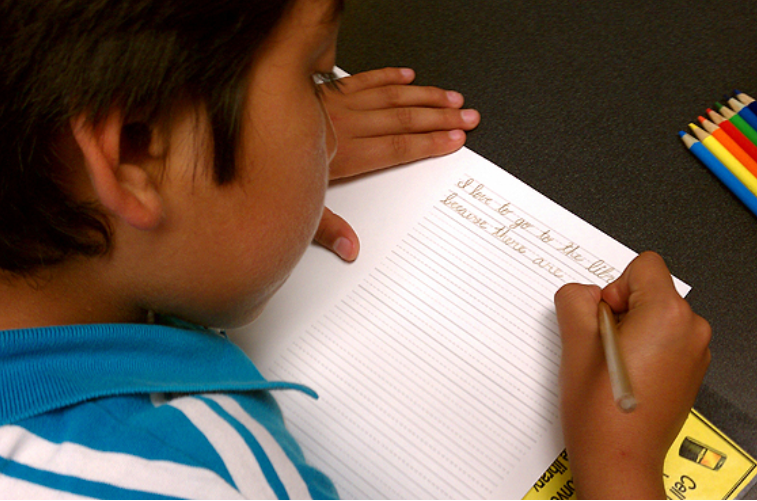 Another benefit to cursive is that all lowercase letters begin on the line. Due to the letters being anchored on the line from the start, students are less likely to have floating letters and words. You may have witnessed "roller coaster" writing where a student's words rise and fall on, over and under the line. In print, there are 3 different places for letters to start. Our tall letters, like "t", "l" and "h" start from the top, while all other letters start at an imaginary middle line. The exception is the letter "e" which starts slightly below the imaginary middle line. Generally, cursive letters start and end at the line with few exceptions, creating a consistent "go to" for the writer.
Along with letter spacing and placement, letters are less likely to be reversed with cursive symbols. Every letter is unique in the cursive alphabet. Yes, letters are unique in print as well, but print uses the same symbol in different positions to make them unique. Hello, b, d, q, p.  That does not exist in cursive. What a time saver for students who focus a lot of energy on asking, "Which way does "b" go?"
As a whole, cursive writing helps train the brain to incorporate visual and tactile information, while strengthening the fine motor skills needed for fluent and legible writing. Cursive for the WIN!
Written by Autumn Templeton, CALP, CDP
Autumn is the Center Director of the Brainspring Learning Centers in Bloomfield Hills and West Bloomfield, Michigan.
References:
Berninger, V.W. (May-June 2012). Strengthening the Mind's Eye: The Case for Continued Handwriting Instruction in the 21st Century. Principal, 28-31.
Freedman, S.G. (January 19, 2005). Back to the Basics of a Legible Hand. On Education. The New York Times.
Handbury King, D. (April 2015.) Why bother with cursive? Dyslexiaida.org
Klemm, W.R. (March 14, 2013). Why Writing by Hand Could Make You Smarter. Psychology Today.