Posted by Brainspring on 9th Dec 2014
Hi everyone,
I'm giving another post of Multisensory Monday ideas from Dite this week.  Not only does she have an idea of her own, she was kind enough to point out that Starfall has a story called Soap Boat that would be a good accompaniment to the soap boat activity.  If you're interested in any of the Starfall books, here is a link to the box set.
Funny Mix
Now for her own idea Dite, at Ladder Learning Services, reviewed a game called "Funny Mix".
Right now it's $14.99 on Amazon: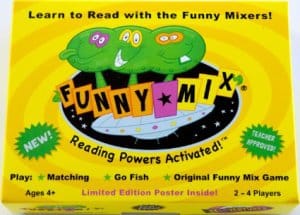 SUPER HEROES + PHONICS = SUPER READERS! Mix and Match these durable plastic cards to create over 1,700 SUPER HEROES with Funny Names and Multiple Powers! Colorful illustrations make it easy to SELF-CHECK!
I've never played but it sounds like it would be super fun for beginning readers.  Dite says."Funny Mix is a wonderful game for young students who are learning phonemic awareness and beginning phonics skills. It would also be a great center activity in your classroom!"
Remember to like us (and Dite!) on FB, follow us on Twitter and share us with your friends!