Posted by Brainspring on 13th Mar 2017
To celebrate March is Reading Month, Brainspring Tutors and Instructors share their tips and ideas for motivating students to read.
"How do you motivate your students to read?"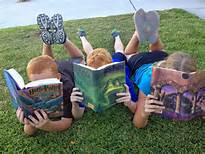 ---
I motivate my young, beginning readers to read by incorporating reading and writing into everything we do throughout the school day.  When children realize their own ability, their excitement grows.  Children who experience success are more willing to read and take more risks.
Lynette Marschall
Tutor; Brainspring Learning Centers- Plymouth
---
In this awesome world of technology some authors have started incorporating technology into their books, making them more interactive.
One of my favorite series for middle schools is the Skeleton Creek series. They are mystery stories and at the end of each chapter, they log in to the website with a secret code and they watch a video clue for the next chapter. My kiddos really enjoy it and I find that they can't wait to get to the end of the chapter so they can watch the video. Pretty cool.
Autumn Templeton, CALP CDP
Center Director; Brainspring Learning Centers- Bloomfield Hills, West Bloomfield and Ann Arbor
---
One of the most important motivators for students is an interest in the subject matter.  Providing a variety of fiction and non-fiction texts on diverse interests gives students the freedom to choose something that appeals to them on a personal level.  Once students find that reading can be fun and interesting, they will be more apt to read independently.
Amy Justice, CDP
Center Director; Brainspring Learning Centers- Brighton
---
Children are very creative by nature. In my classroom, one of the most favorite activities to motivate my students to read is to hold a Book Teaser Show. Each student chooses a book from the classroom or school library and creates a 3-minute commercial on that book—without telling the ending or giving too much away. They can create billboard artwork, dress up, create props, etc.
On the Book Teaser event day, each child has 3 minutes to do their commercial; always ending with, "if you want to know more, check out (this book) from Mrs. Brooks' library or the school library." It's amazing how many of my classroom library books have "waiting lists", which gives me a lot of information on what kind of books and genres my students like.
Also, having an audiobook library available for the kids is fantastic, especially for struggling readers or second-language students. My rule for using the audiobook library is they must follow along with the hard copy (if available).
Excellent research is being done on the use of Graphic Novels in the classroom and home. Graphic novels are especially useful with older struggling readers because the books they can read are usually very babyish and embarrassing to them. Kids really enjoy reading this genre. Although it provides heavy picture support and fewer words, it is really strong on building comprehension skills like inferencing, prediction and context clues.
Samantha Brooks, MSE, Dyslexia Therapist
Instructor Intern; Rogers Arkansas; Brainspring Educator Academy
---
At my children's school during March (and many others) they do Battle of the Books, which the kids love.  Motivating students to read during other times (especially summer) can be trickier.  Parents can do their own Battle of the Books with their children or have siblings do their own Battle of the Books during the summer.  The competition is very motivating!  Rewards can be big or small (extra screen time, trip to get ice cream, etc.)
Julie Rorabacher, MA, CDP
Regional Director; Center Director; Brainspring Learning Centers- Plymouth
---
I find the best way to motivate students to read is by keying into their interests, but not just in the traditional sense of a "subject area" (i.e. basketball, celebrities etc.).  I try to incorporate other facets of reading, for example; funny stories or jokes they can tell someone else later, a science experiment they must follow, a makeup tutorial, directions on how to make a certain craft or reading from someone's informative blog.  I believe this conveys to my students that reading doesn't have to be tied to a textbook or even a chapter book, reading happens in hundreds of different ways this day in age and should be enjoyed accordingly.
Katie Hodgkins, CDP
Instructional Development Specialist; Instructor; Brainspring Educator Academy
---
I like to have my students preview a book before they read it.  For example, students can look at the front and back cover, read the chapter titles and look at the pictures to make predictions and activate prior knowledge. I also ask students to generate questions about the book, which helps the students work on questioning skills while also peeking interest and excitement about reading the book.  This activity often has the same effect as watching the previews before going to see a movie.
Stephanie Cork, CALP CDP
Director of Program Development; Master Instructor; Brainspring Educator Academy
---
Motivating my student to read can be difficult, especially with my older students.  When a student is in middle school but reads at an elementary level, the reading material tends to be too "babyish".  Therefore, I rely on internet resources.
Read Works is one resource that I use a lot. It allows you to print leveled reading passages and comprehension questions based on Lexile Measures… and it is FREE!
Scholastic Book Wizard is another resource I refer to often.  Again, it allows you to input a student's Lexile Measure, DRA, or Grade-Level Equivalent.  You can also focus your search by sorting results further based on genre, subject, and grade.  Once I find books that "fits" a student's level, I check my local library for a copy!
Stephanie Castillo, MA, CDP
Center Director; Tutor; Brainspring Learning Centers- Clarkston
---