Posted by Samantha Brooks on 24th Feb 2019
Today is Multisensory Monday! When teaching phonological awareness skills such as blending and segmenting, I often use Elkonin boxes, colored blocks, and chips. Lately, I have been searching for a fun way to liven these sometimes mundane, but essential activities.
I found one that has worked wonders with my students and of course, I must share!
Using blending boards are an incredibly powerful and fun way to practice orally blending and segmenting sounds in words. These boards have 7 colorful animals cut into three parts (head, torso, and tail) that represent a three-phoneme word (beginning, middle and end). Students create mix-matched animals to represent the three different phonemes they hear in a word. They can then use colored chips, blocks or fun little erasers to place on the corresponding animal part.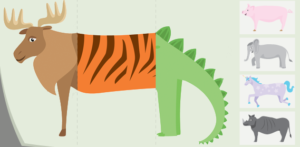 I found these blending boards which are available for immediate download for $5.99 (click the link below) or, you can certainly create your own.
http://www.baytreelearning.com/blog/products/mix-match-blending-board-book-animals/
Three Activities Using Blending Boards:
These activities can be done one on one or in a small group. Ideally, each student will have their own blending board. Also, these activities do not involve print. Students only listen and produce words/sounds heard.
Blending
Blending requires putting together phonemes heard to create a whole word (which ties to reading).
Create a crazy mix-matched animal with three different parts, such as the image above.
Teacher says: "Guess my word … /m/  /a/  /d/"
Students listen for the sounds heard and repeat while pointing and sweeping their finger from left to right on their animal blending board.
Students then give the word they heard by saying "mad."
Repeat with different words—can change animal parts to keep students engaged!
Segmenting
When we segment, we pull apart the sounds heard in a whole word (which ties to spelling).
Create a crazy mix-matched animal with three different parts, such as the image above.
Teacher says a whole word: "dog"
Students segment the sounds that make up the word and say "/d/ /o/  /g/," placing a manipulative on each animal part while saying each sound.
Repeat with different words!
Manipulation (Advanced Skill):
Manipulating words is a more challenging task that requires students to alter sounds within words to make new words.
Teacher says a whole word: "sad" then segments each sound in the word "/s/ /a/ /d/ " while placing a marker on each animal part.
Teacher says: "Now change /s/ to /m/."
Students switch manipulatives to represent the changing first sound.
Teacher asks: "What word do you hear now?"
Student respond with the new word: "mad"
Repeat with any of the three positions (initial-medial-final or head-torso-tail).
Have fun and enjoy! 
Written by Samantha Brooks, MSE, CDP
Samantha Brooks is an Instructor with Brainspring Educator Academy.
---

Click here to learn more about our accredited Orton-Gillingham professional development.