Posted by Brainspring on 21st Sep 2014
Hi everyone,
Welcome to Multisensory Monday!  This week I am featuring 2 ideas from Dite at Ladder Learning Services.  I was having some email difficulty recently and I missed sharing a couple of Dite's great activities.
Bunny Hop
This activity helps students begin to look for the VC/CV syllable division pattern in words.  The VC/CV words all have a double consonant in the middle.
To play, just print the gameboard and make a bunny (or use any kind of token).
You can make a simple bunny token with a cotton ball, paper, markers and scissors.  Cut out two ears, color the inside pink and glue them on top of the cotton ball.  Then just cut and glue two eyes and a nose and you're done.  So adorable!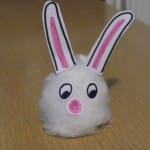 To play, students hop their bunny to the VC/CV words with the double consonants and read the word.
See Dite's post for more details and an idea for more advanced students.
http://atlantareads.org/2014/09/multisensory-monday-bunny-hop/
Scrabble Slam
Dite also has a great recommendation for a game you can purchase that would be a fun way to end a tutoring session or be played as a center activity.  Scrabble Slam is a fast-paced card game where players use letter cards to build and change words.
Dite describes the game in her post at http://atlantareads.org/2014/09/multisensory-monday-scrabble-slam/.
You can easily buy the game on Amazon.com.  As of this post, it is only $5.60 with free shipping!  http://www.amazon.com/gp/product/B001FVPS0K/ref=as_li_tl?ie=UTF8&camp=1789&creative=390957&creativeASIN=B001FVPS0K&linkCode=as2&tag=atlantarorg-20&linkId=JOBXF3YBVMIEEGR5
Thanks to Dite for sharing her ideas with us!
If you have any ideas you think other teachers or tutors would enjoy, please comment here or email me.  I would love to feature some of your ideas on Multisensory Monday!
Remember to like us on FB, follow us on Twitter and comment here!