Posted by Brainspring on 21st Mar 2022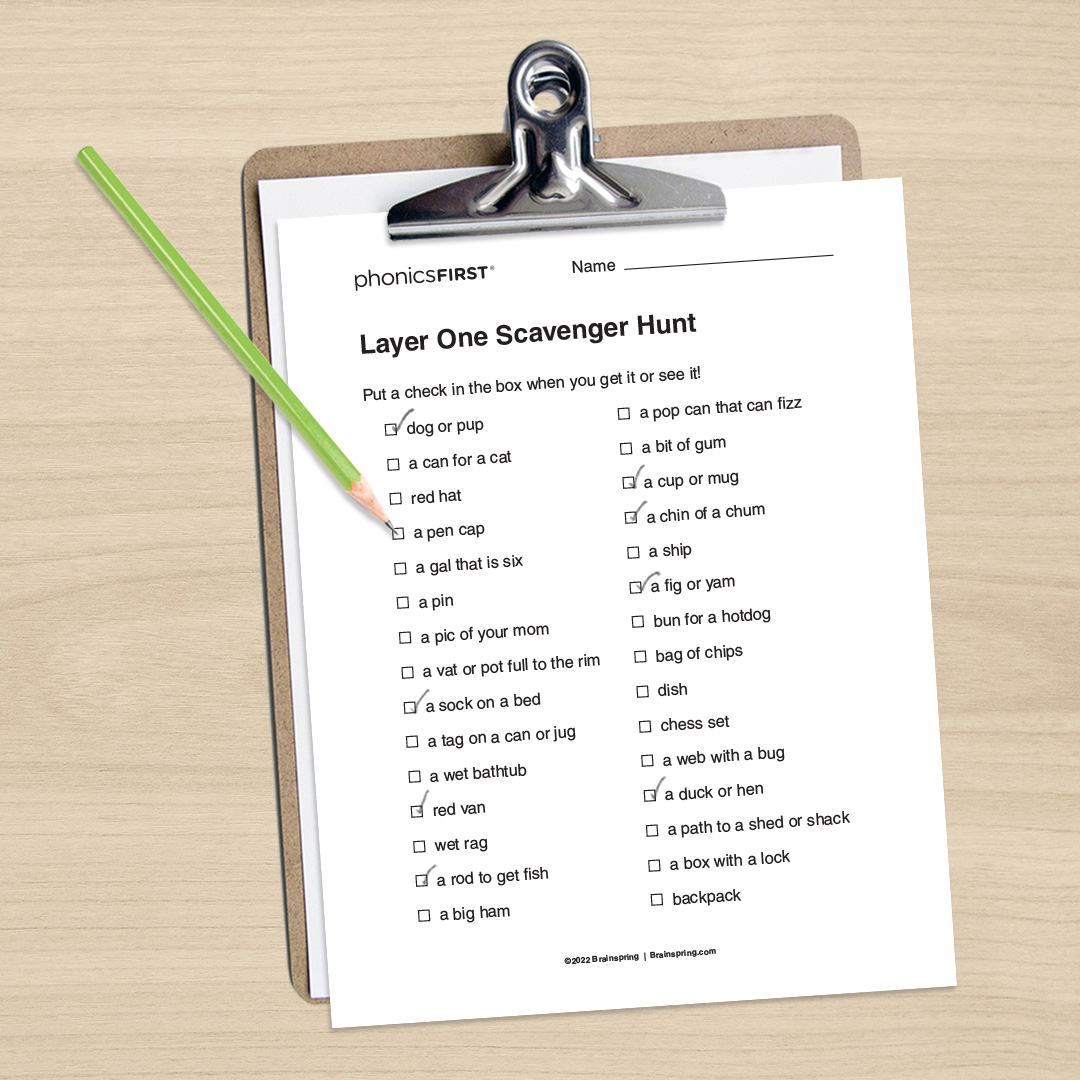 While reading, in general, is a vast process that covers lots of different concepts, we do not have to make it boring. One favorite activity of mine is to take some of the dictation words or sentences found in the Phonics First®Decodable Scavenger Hunt - Attachment Curriculum Guide, combine them with some I have written, and have students look for items based on the clues given! It is an excellent way for students to practice decoding, fluency, and even their vocabulary and inferencing skills. The best thing is to tailor this for any concept or Layer you are working on. Have your students complete it in the classroom or at home for homework. Type a list of items written in decodable words or phrases, print, and allow students time to look for each item! If possible, they can either collect the item or just put a check in the box next to the found item. 
Materials 
Clipboard
Pencil 
Try It! 
Here is an example of one that I did with my students recently to practice all Layer One concepts (they were to look for all the items at home):
Expand It!
If students cannot find a particular item or they want to include more accountability, have them draw a picture of the item next to the word or phrase. 
Dog or pup
A can for a cat
Red hat
A pen cap
A gal that is six 
A pin
A pic of your mom
A vat or pot full to the rim
A sock on a bed
A tag on a can or jug
A wet bathtub
Red van 
Wet rag
A rod to get fish
A big ham
A pop can that can fizz
A bit of gum
A cup or mug
A chin of a chum
A ship 
A fig or yam
Bun for a hotdog
Bag of chips
Dish 
Chess set
A web with a bug
A duck or hen
A path to a shed or shack
A box with a lock
Backpack
Written by Tony Puente.
Tony is a Brainspring Tutor and Livestream Facilitator with Brainspring Educator Academy.
Brainspring has proudly supported the educational community for more than 25 years.
The Learning Centers support students through one-on-one, multisensory tutoring sessions. Learn more about our in-person (available in Southeast Michigan) and nationwide online tutoring.