Posted by Brainspring on 5th Oct 2014
Hi everyone,
I hope you don't mind, but I'm taking a little bit of creative license with Multisensory Monday today.   Today, I want to share an idea to get your students using their senses to engage with the world around them and then add those sensory details to their writing.
I was inspired for this activity by the beautiful fall colors that are appearing in Michigan now that the leaves are beginning to change colors.  The colors are vibrant; the air is crisp and you hear the dry, scratching sound of leaves whenever the wind blows.  It's the perfect weather for kids to put on a sweater and go play in the leaves, so let's ask them to do that!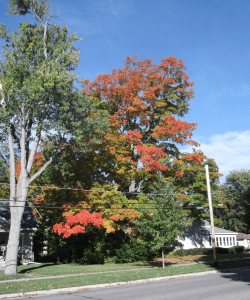 The basic idea of this activity is very simple.  Feel free to adapt it to your grade-level; make it a quick activity or spend more time and turn it into a bigger project.  However you plan to use it, the first step is to ask your students to collect several leaves.
Finding Leaves and Making Sensory Observations
Assign your students the task of spending some time looking for unique, interesting, colorful leaves.  Personally, I like this activity best in the fall, but it can be done in any season with any leaves.  Since I like to have the students make a collage of the leaves that they can hang in the window, I suggest each student find 5-7 leaves.
The students' task is not just to find the leaves, however.  Ask them to pay attention to the details around them as they search for the "best" leaves.  Part of the assignment is to make notes of details they noticed for the senses of seeing, hearing, touching and smelling. They should try to notice details about what things look like, like the leaves, trees, clouds and sun.  They should also pay attention to things they feel, like the wind, hard concrete, soft grass and crunchy leaves.  Also ask them to try and remember details from some of the subtler senses, like the smell of the air or dampness of the ground.
You can easily adapt this part of the activity to what is appropriate for your students.  First-graders might be asked to only record one detail or observation for each sense; while 4th graders might be asked to record 2 or 3 observations using as many descriptive words as they can.   
When the students bring their leaves and notes of details and observations into class, set aside time to have them write about their experience.  Here is another aspect that can be adapted to what works best for your classroom.  This can be an informal journal entry where students write about searching for the leaves or describe a fall day, or this can be a formal piece of writing with a draft, editing and a final copy.  Whatever kind of writing task you choose, the point is to have your students use the observations they noted to add sensory details to their writing.  For example, instead of writing, "I walked around outside", model adding details to make the sentence more interesting, "I slowly wandered across the damp grass as the wind blew clouds, blocking the sun."
Use as much modeling and scaffolding as the students need to begin to add details to their own writing.  First-graders may need scaffolding in the form a fill-in-the-blank outline for them to add their details to.  Fourth-graders may need to underline each detail in a different color to make them accountable for including each of the senses. 
Making a Leaf Collage
Finally, have the students arrange their leaves on wax paper for you to iron and make their leaf collage.  You'll need wax paper, a towel, scissors and an iron for this part.  Below is a YouTube video showing how to press the leaves between wax paper to make the collage.  These would make a wonderful hallway bulletin board or beautiful window hangings in the classroom or sent home.
Please comment back on this post when you use this with your students!  Pictures of the students' leaves or writing samples are encouraged as well!
Also comment with other ideas for helping students engage with their senses or add sensory details to their writing.
Thanks for the comment on the last post.  Teachers, do you agree that it would be helpful to learn more strategies for students with ADHD?
Ideas for Color Switching Markers
It's a very colorful Multisensory Monday at Ladder Learning Services as well!  This week Dite has some fun ideas for using color changing markers, like Tic-Tac-Toe.  Thanks Dite!
http://atlantareads.org/2014/10/multisensory-monday-color-switchers/
Remember to like us on FB, follow us on Twitter and share us with your friends.