Posted by Brainspring on 28th Jun 2015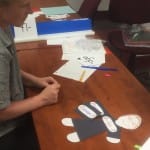 Hi everyone,
Welcome to Multisensory Monday!  After three fantastic weeks of training teachers in Phonics First, I am home, taking some time to unpack and recharge before I hit the road again.
Open Enrollment Trainings
We are pumped to have several open trainings coming up this summer.  If Phonics First is coming to your area, please consider signing up for the course.  You will love it!
Here are the upcoming dates and locations.  You can register here.  Please email me with any questions!
The Judge of -dge
Today's multisensory idea came from a teacher in a recent training in Marion City, OH.  This activity goes specifically with –dge: Phonics First Foundations Layer 2 Lesson 20.  When you teach –dge, you are teaching a spelling rule.  I tell my students, "When you hear /j/ at the end of a one syllable word with a short vowel, it's spelled with –dge, even though it sounds the same as j."
If you're using Phonics First, "judge" is the keyword for this lesson and your multisensory activity should relate to "judge".  For teachers who have taken the Phonics Firs training, remember our Member's Area has a whole section of activities that correspond to the lessons.  I though this take on one of the Member's Area activities was fantastic!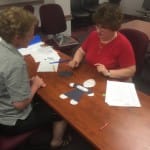 The teacher made a judge dressed in a black robe.  (Tip!- She got the shape of the person precut in a pack at Hobby Lobby.)  Then she made word cards with –dge and non-dge words.  The students had to read the word and decide if the word followed the –dge rule.  If it did, the word was "not guilty" and got to go free.  But if it didn't, the word was declared "guilty" and put in jail.  Even the teacher she shared her lesson with had fun calling out the verdict and sentencing the words! 

Remember to like us on FB, follow us on Twitter and LinkedIn and share us with your friends!