Posted by Brainspring on 31st May 2015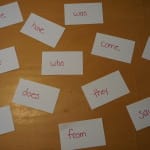 Hi everyone,
Welcome to Multisensory Monday!  The school year is coming to a close and I want to know- what are your summer plans?
Are you teaching at a summer program?  If so, what grades?
Are you tutoring?  If so, what ages, subjects?
Are you taking a well-deserved vacation?
Are you blogging, taking college courses, developing curriculum for next year?
Please share how you'll be spending your time this summer! 
I'll make sure I'm sharing ideas you'll be able to use right away.  I can share small-group games, if there are many of you teaching at summer programs.  I can share interactive math ideas, if some of you are providing extra math help.  Or I can be jealous of the awesome vacations you'll be taking!
Part of my plan this summer is to get more pictures and videos on the blog for you guys.   Even though you may not be teaching every week, be sure to keep checking back here!
Remember, you can subscribe with your email to get posts delivered right to your inbox.  You can also follow me on Twitter @4TeachChat (another thing I'll be doing this summer is trying to improve my Tweeting skills) and I just joined LinkedIn! Come connect with me there.  Any ideas for making my profile more exciting?  It's still under construction.
Red Word (Sight Word) Slap
Onto today's multisensory idea!  Last week one of my students was pretty bouncy (he was actually bouncing in his seat); I knew I needed to bump up my multisensory activities to get him out of the chair.  Here is a game we played for extra Red Word review that he loved- Red Word Slap.
                Red Words are Phonics First's version of sight words.  If you aren't using Phonics First, you can use any sight words for this activity.
Lay all the student's review Red Word out on a table or the floor.  Give the student some kind of marker that he will have in his hand to slap down on the Red Words, poker chips work really well.  Then call out the Red Words in a random order.  As soon as the student finds the word, he slaps down a chip to mark it.   Go quick!  This activity is about immediately recognizing Red Words.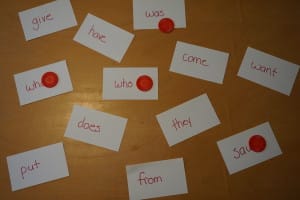 Since my student likes competition, I timed how long it took him to find all the words.  Then we played 2 more times to see if he could beat his time.  His best was 29 seconds, not too shabby!
Teachers, turn this into a game for groups of 2 or 3 by giving each student a different color marker or chip to use.  The first student to find the word gets to keep their chip on it.  The student with the most words wins.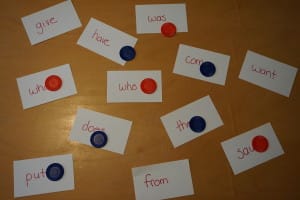 Homonym Game
Today Dite shares a game she has been playing with her students lately for common homonyms, like sea/see and hear/here.  It looks like a great center activity!
Check it out on her blog!
Remember to like us on FB, follow us on Twitter and share us with your friends!