Posted by Brainspring on 8th Jul 2019
Does anyone remember good old nursery rhymes from their childhood? Listening, singing, jumping rope and clapping hands to silly chants? Who remembers Hey Diddle Diddle or Hickory Dickory Dock? These simple nursery rhymes seem to have taken a spot in the back seat of many children's early learning.
Instruction in Nursery Rhymes Increases the Phonological Awareness of Preschool-Aged Children
We came across an article on the importance of nursery rhymes and phonological awareness in the Journal of Language and Literacy Education.
To read the entire article, click HERE. (There is a lot of good information about phonological awareness in this article!)
The Study
The study asked 2 questions:
1. How much knowledge of nursery rhymes do pre-K children have?
2. Does explicit instruction of nursery rhymes combined with kinesthetic and hands-on activities increase a preschool child's phonological awareness? More precisely, does it increase a child's ability to recall nursery rhymes, identify rhymes, identify beginning sounds, and become more phonologically aware of the sounds of the English language?
The preschoolers were divided into two groups: one group received explicit, multisensory, hands-on instruction in nursery rhymes for 15-20 minutes once a week for a total of 10 weeks; the other group was the control.  When both groups were assessed after the 10 weeks, the group who received the multisensory instruction in nursery rhymes scored significantly better.
The Takeaway
Here are the 2 main conclusions we took away from the study that can be applied to students struggling with reading:
This study makes it clear that early knowledge of nursery rhymes helps children to build awareness of sound patterns of language and plays an important role in a child's linguistic and early literacy development.
Nursery rhymes are a socially engaging, playful, and developmentally appropriate way for young children to hear, identify, manipulate, and experiment with the sounds of language. Integrating nursery rhymes, jingles and chants, and other traditional literature into the early childhood curriculum contributes to a linguistically rich environment…Combining tactile-kinesthetic activities in which language is intentionally explored, manipulated, and experimented within the context of nursery rhymes and literature enhances children's phonological awareness, sensitivity to rhyme and phonemes, and may stimulate phonemic skill development. This skill development contributes to the ability to read.
Ideas for Using Nursery Rhymes in the Classroom (or at Home!)
Promoting phonological awareness early on is sure to set up your student for success in reading down the road. Using nursery rhymes is a fun, effective way to help students develop rhyming skills. Get students so familiar with a rhyme that they basically have it memorized. Read or recite it over and over again, or play songs that set the rhyme to music.  Then, start omitting the rhyming words and ask the students to fill them in.  Below is a chart which includes a nice variety of great multisensory activities.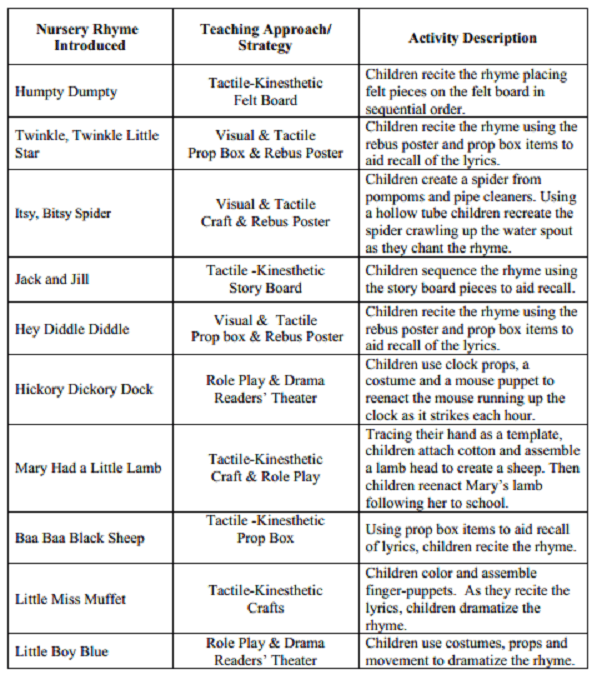 Written by Brainspring
---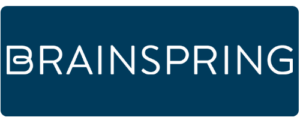 Accreditation: