Posted by Brainspring on 12th Apr 2015
Hi everyone,
Welcome to Multisensory Monday!  Today's activity is for any one who has ever had a student who had trouble blending sounds to read a word, even when they knew each letter sound individually.  It can also be used to help students practice phoneme segmenting.
Check out other videos from Think Ready Read on YouTube.
Clover Syllable Game
This week Dite has made another great game that is ready to print and use (love that)!  It's a Crazy-8s like game for practicing 6 syllable types and CLOVER is an acronym to help students remember the types.
Check out her blog for the directions and to print the cards.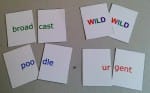 Remember to like us on FB, follow us on Twitter and share us with your friends!