Posted by Guest Blogger on 8th Dec 2019
It is not uncommon to see students spell words such as quick as kwik or squirt as sqwirt. Of course, many readers struggle with the visual differences between the p and q and although there are several fonts that show the " q " with a tail, most text does not. And who can forget the traditional classroom alphabet charts in which the letter " q " sits alone, in complete solitude–right next to the letter " r "?
Some Ways to Address the " q " Confusion
1. I draw the q with a u-shaped tail. I cover up the top part of the q and show how the " q " and " u " are already attached. To watch a video explaining this, CLICK HERE! 
2. Then, students write the " q " sound and say, " Q . . .uuuuuuuuu says /kw/ ," emphasizing the " u " while making the u-shaped tail. To watch a video explaining this, CLICK HERE!
3. Story Connection: So, how did " q " and " u " really meet? You know . . . before they were married and "joined" their sounds forever?
How it Really Happened
Mr. " Q " decided to impress Ms. " U " by showing off one of his famous karate moves. "Kw…!" Ms " U " was so scared that she threw up her arms and cried, " Ŭ "! But very soon after, it was true love. Mr. Q and Ms. U decided that their sounds were better together, just like the two of them.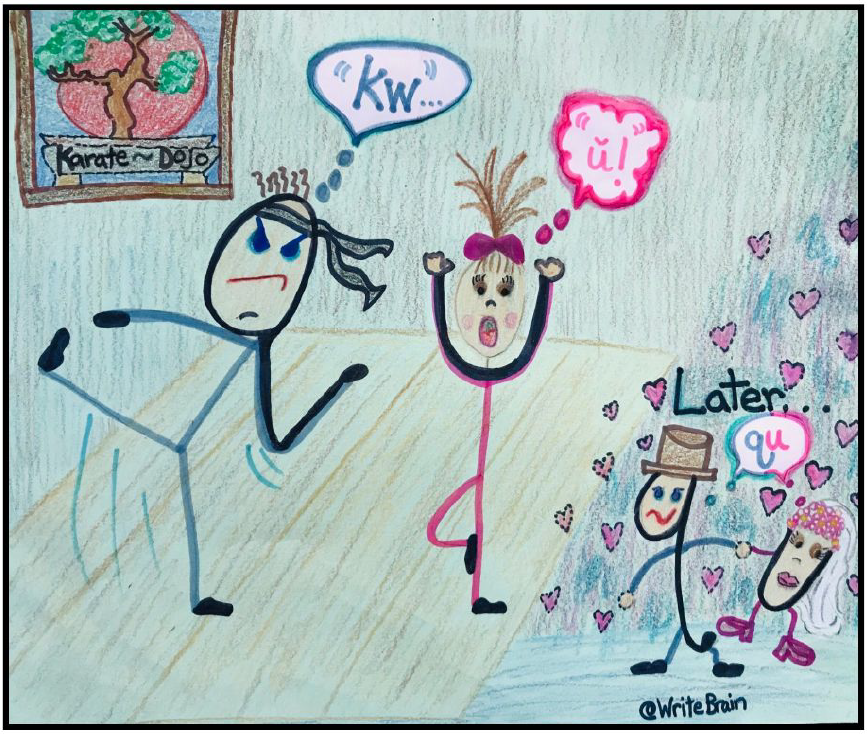 Written by Jennifer L. Padgett, M. Ed.
Jennifer is a Literacy Specialist, K-12
Mexico, Maine
---

Click here to learn more about our accredited Orton-Gillingham professional development.