Posted by Tammi Brandon on 23rd Nov 2017
As parents and educators, we all want our children to grow up and become successful adults. In our society, being successful and fulfilling the American Dream requires the skill of literacy. Without it, the hope of living the American Dream diminishes. Our society is literacy driven – even the most mundane tasks like filling out a job application or assembling a piece of furniture require basic reading skills. Here at Brainspring Orton-Gillingham, our daily lives are filled with literacy. We are often asked, "What can I do to help my child at home?"
So, what can you do to encourage literacy? Here are six simple things all families can do.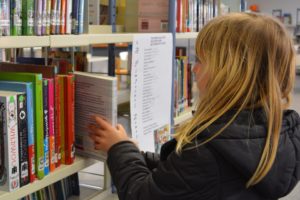 1. Read.
From the time baby enters the world, read to her. Nursing moms can read aloud magazine articles and coffee-drinking dads can read newspaper bits to baby as she sits in her highchair munching on Cheerios. Read everything and anything: street signs, food labels, menus, and, of course, books!
2. Model.
Take time to read yourself. Curl up with a good book. Demonstrate that reading is enjoyable. Show your children that it is fun to read and that reading lasts a lifetime. Rather than turning on the television, grab a book…even if it is just for 15 minutes. Do it on the daily. Your own interest and excitement for reading will become contagious.
3. Word Play.
While reading and singing might not seem to have much in common, they do! Sing rhyming songs, alphabet songs, songs with varied vocabulary. Being able to rhyme words is an important step in emerging literacy, so show that it is fun through song. Play games with the language, too. Try talking about an everyday activity using only one letter to begin the words in a sentence. Instead of "time to brush your teeth" replace the first letter of the main words with a new letter, such as M, and you get "mime to mush your meeth". Building word awareness is critical to reading success.
4. Read, read, and re-read.
While you may tire of reading the same story over and over again, your child likely will not. Go ahead and read that same book every night. Help your child become engaged in the story by saying, "what comes next?" or leaving out a word and asking your little one to fill in the blank. Have your child turn the pages. And remember to point out details in the picture. Tell the author's name and ask about the characters in the story.
5. Read the world.
Words are all around us! Turn every day into a reading adventure. While shopping, go on a letter hunt by choosing a specific letter to find on store signs, tags, boxes, and bags.  Visit the local library and the book section of your local store and browse through the books. Take a book with you wherever you go…to the doctor's office, to the park, to the restaurant. Read whenever and wherever you have the chance. Make reading mobile.
6. Talk.
This seems simple enough. We do it every day. Children who do not hear rich and varied vocabulary tend to be "word poor". So, speak to even the youngest child in full sentences and use complex vocabulary from an early age. Instead of, "Do you want your baba?" try asking, "Are you feeling hungry? Would you like to have a bottle of warm milk?" or, "I think you might be ready for your bottle. Let me get one ready for you." Using a variety of words and sentence forms increases vocabulary development and helps prepare children for literacy.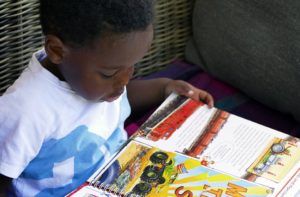 Reading lasts a lifetime and it is one of the greatest gifts we can give our children. So, grab a book and start reading today.
Tammi Brandon, M.Ed., CDP
Tammi Brandon is a Master Instructor and Education Consultant with Brainspring Educator Academy.
Brainspring's Educator Academy helps teachers bring Orton-Gillingham based multisensory instruction to the classroom. Our nationally accredited Phonics First® curriculum helps transform struggling readers into skilled learners with an effective, fun, multisensory approach.
For more information please visit brainspring.com or call 1-8007323211