Posted by Brainspring on 3rd Nov 2014
Hi everyone,
I didn't get to share Dite's idea in my post yesterday.  I absolutely love her activity though, so I am sharing it as its own post.
I also wanted another chance to remind you to please take the survey on how well you feel your teaching prep program prepared you for effectively teaching struggling readers.  
https://www.surveymonkey.com/s/5WTGZFS
Please fill it out if you haven't yet!  It will only take 2-3 minutes!
Sleep- Wake Consonants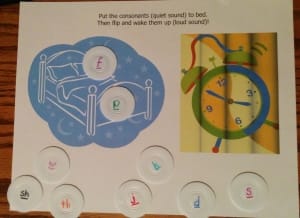 Sleep-Wake Consonants asks students to distinguish between voiced and unvoiced consonant pairs.  Talking about sounds, like whether they are voiced or unvoiced, clipped or continuous, can really help some students when it comes to identifying or producing sounds.
Voiced/unvoiced pairs can be particularly troublesome.  I have had a few students who would have benefited from this game.
Check out Dite's blog for more information on voiced and unvoiced pairs, as well as details on how to play the game!
 http://atlantareads.org/2014/11/multisensory-monday-sleep-wake-consonants/