Posted by Brainspring on 1st Apr 2015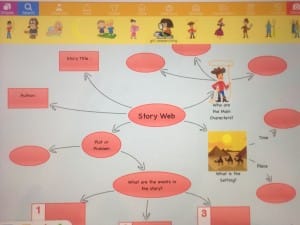 Hi everyone,
In last week's post I just briefly mentioned some of the aspects of writing that we can focus on to improve the writing of students with LD.  I'll be continuing to discuss writing and students with in several posts, focusing on specific components of writing and offering suggestions and resources that can benefit students, both those with LD and those without.  And I'll be counting on you to share your own resources and strategies in the comments below!
I do a lot of research on ways to help students with LD, but what I usually find are strategies and tools for helping students in general and for making me a better teacher.  That's one of the reasons I love the Orton-Gillingham approach to teaching reading; it is essential for struggling readers, and at the same time, it's effective for all students!  Think about how these writing strategies and tools could help all the writers in your classroom.
Technology is one of the most powerful resources for supporting writing skills in students with LD:  Support technology provides many benefits by facilitating writing for students with learning disabilities who often find the writing process frustrating (MacArthur, 1996)."  There are commercially available software, programs and technology out there specifically designed for students with certain disabilities.  The things I'm going to be sharing, however, are simple and cheap (usually free) resources and strategies that won't need to be planned for in the school budget.
Technology for Graphic Organizers
The prewriting stage is the first step of the writing process and also one of the most difficult, especially for students with LD.  This is where students begin to plan what they will eventually write.  Students are planning, brainstorming, clustering, thinking of purpose, ideas, themes, gathering information and beginning to consider how the pieces fit.
When looking for tools to assist students with this stage, I found Kidspiration Maps, an iPad app that allows students to construct colorful graphic organizers.  Graphic organizers are great tools to help students with planning because they provide a framework to guide ideas about topics and content.
Kidspiration Maps gives students more control, flexibility and allows for more creativity and expression than paper graphic organizers.  Student can completely build their own organizer or follow a template.  They can control everything: shape, color, size, spacing, font, images, etc.  What I thought was especially cool was that students could add graphics, pictures and links right into the organizer.  This would accommodate a wide variety of thinking and learning styles.  And after creating an organizer, the app can turn it into an outline with no extra work required!  Students can then follow their outline to continue the writing process and develop their paper.
I also found this app very easy to use.  I had no problem installing the app and immediately creating my own organizer.  There is very little text for students to read; instead almost everything is done with an easy-to-understand image, making this app manageable for struggling readers as well.  As an added bonus, since it is used on an iPad, suggestions are generated as words are typed in, so poor readers and spellers also get the support of a word-generator!
I use Kidspiration Maps Lite which is a free app.  It works wonderfully, but does not have all the features of the full app ($9.99).  In the Lite version, only 5 organizers can be created and it does not offer the option to delete old organizers.  I get around this by uninstalling and reinstalling the app when I use up my 5.  The paid version offers unlimited organizers and options for managing and deleting them.  The free version also only allows the organizers to be saved as a Kidspiration Map, which means they can only be opened and viewed on an iPad.  The full version will save in other formats, such as PDF, which can easily be saved, emailed and printed.
If you have access to iPads for your students, this is definitely an app you'll want to check out to support your students with the planning process.

For older students there is also Inspiration Maps which includes templates for more sophisticated graphic organizers and writing purposes.

What other resources do you use for graphic organizers?
What strategies do you have for supporting students with the planning process?
Remember to like us on FB, follow us on Twitter and share us with your friends!