Posted by Brainspring on 1st Apr 2018
Plastic eggs are in abundance this time of year! Send out an email to parents for donations or stop by the store and pick up a pack of plastic eggs on clearance!  Here is an inexpensive activity to make use of plastic eggs while reinforcing ending blends. This activity will help students learn the correct letters that create each ending blend, while also reinforcing the blending process.

Materials
Plastic eggs
Sharpie
Small wrapped candy treats (Starburst, Life Savers, Kisses etc.)
Small basket (optional)
To Create
Using a Sharpie, write the beginning of targeted words (consonant-vowel) on one side of the egg, and three options for endings with blends on the other side of the egg. Repeat for each colored egg.  Fill the eggs with one or two candy treats. Be sure to create a "key" for the words to be created on each egg (by color). Place all the eggs in a basket.
To Play
Have student select an egg from the basket. The teacher simply says a word from the "key".  Student(s) create the given word by sliding the two sides of the egg around until the targeted word is created.  Student(s) then read(s) the targeted word aloud as well as the other two real or nonsense words on the egg.  Student(s) then open(s) the egg and enjoys the treat inside.  Be sure to keep food allergies in mind! The teacher may choose to send the eggs home with each student for later enjoyment!
Adaptations
I used this idea with my tutoring students for ending "t" blends and vowel review.  This activity can be adapted for any beginning or ending blend or vowel intensives.  Teachers may also prefer to use an egg carton instead of a basket. The activities for plastic eggs are endless! Consider using the eggs to practice two syllable words or compound words by writing syllables on each side and having the student(s) select, create and read words from egg halves. Once played with teacher or tutor, send the eggs home with the student(s) to reinforce the lesson!
Written by Julie Wright
Julie is a tutor at Brainspring Learning Center in West Bloomfield.
---
Bring Brainspring Orton-Gillingham multisensory instruction to your classrooms, transforming struggling K-12 readers into skilled learners through our effective, evidence-based approach.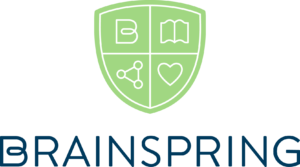 For more information please visit brainspring.com or call 1-8007323211