Posted by Tammi Brandon on 12th Nov 2017
One of the biggest struggles for many students is learning which vowel or vowel combination to use when spelling an unfamiliar word. As professional educators, we might use the Advanced Vowel Intensive to help students determine which grapheme to use for any given phoneme. While this is a wonderful tool, I find that my students sometimes tire of it quickly and prefer a more multisensory approach.
French Fry Fun Vowels
This activity focuses on the long-i sound and is perfect for one-on-one or small group instruction. To create the activity, either print out images of French fry boxes or visit your nearby fast food restaurant and ask for six french fry containers.  When I visited my local McDonald's and told the employee what I wanted to do with the fry boxes, she happily provided them to me and wished me luck. Next, gather some wooden craft sticks, a permanent marker, six index cards or small sheets of paper, and the Phonics First Curriculum Guide.
Materials
Six French Fry Containers (or visit The Frugal Crafter to download a free french fry template)
Wooden Craft Sticks
Permanent Marker
Six Index Cards (or small sheets of paper)
Phonics First® Curriculum Guide
Use the Phonics First® Curriculum Guide and choose words from the Open/Closed vowels lesson, the Magic-E lesson, and the Y as in "fly" lesson.  As students advance in the Phonics First® program, you may also use the IGH lesson, the Y-Magic-E lesson, and the IE lesson. Write each word on a craft stick. Be sure to use only the words from lessons you have already taught the students.

Directions
On each index card, write the different graphemes: i, i_e, y, igh, y_e, ie.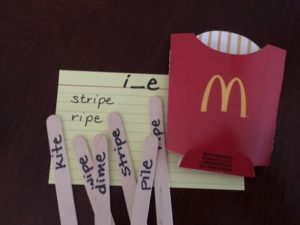 Arrange the fry boxes so that they are facing the student, and place an index card in front of each fry box. Gather all of the craft sticks together, select one stick, read the word on the stick aloud to the student. The student decides which grapheme to use and points to the fry box with that letter(s) in front of it. If the student correctly identifies the spelling of the long-i sound in that word, s/he writes the word on the index card. Hand the student the "fry" and s/he can put it in the fry container.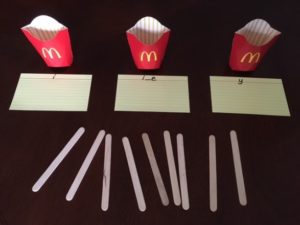 Continue until there are no more French fries. That is it!  A simple, yet engaging multisensory activity that can easily be adapted to fit other Phonics First® lessons!
Tammi Brandon, M.Ed., CDP