Posted by Stephanie Castillo on 3rd Feb 2019
Whether you are a teacher or a parent, games are an excellent way to motivate even the most reluctant child!  With the demands of school, kids can easily begin to resist learning.  Weekly spelling tests, daily math drills, and tutoring word lists can all become repetitive. Games are a great way to encourage kids to practice skills beyond what they would in a typical drill.  In fact, at the end of a typical game, my students are begging to play again!
There are several games that can be adapted for learning.  I like to use games that do not require too much "thinking." Games such as Connect Four require more focus on strategy, thus taking away from the task at hand: reading and spelling.  I also tend to use games that include dice or some type of number option.  For example, Jenga only allows for one word during each turn but Trouble may allow for six words!  The more words, the better!
Jenga
Jenga is a classic game that lends itself well to encouraging kids to practice reading or spelling.
To practice reading, pick up some circular color-coding stickers.  Simply write one word on each sticker and place the sticker onto one of the Jenga blocks.  Once all the blocks have words, you are ready to set up the Jenga tower! To play, simply read the word as a block is chosen and removed.  To amp up motivation, I typically keep track of how many blocks are picked before the tower falls.  Kids LOVE trying to beat their top score!
To practice spelling, simply grab a sheet of paper.  The kiddo earns a turn for each word spelled.  That's it!
Don't Spill the Beans!
Don't Spill the Beans is the newest game in my collection. Most kids have not played this game, as it is typically not available in stores. I purchased mine on Amazon.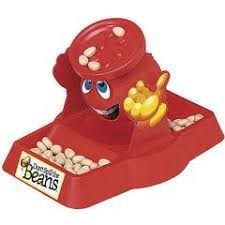 To practice reading with Don't Spill the Beans, simply print and cut out words.  I like to place the words in a cup for the child to pick from.  For each word read, the child places a bean on the pot.  Again, kids typically like to keep track of their scores and look forward to beating their score next time.
To practice spelling, once again grab a sheet of paper.  For each word spelled, the child places a bean on the pot.
Trouble
Trouble is one of my favorite games to encourage reading and writing!  Yes, it is a longer game than the others listed, but all this means is it le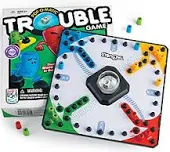 nds itself to lots of practice!
To practice reading, print and cut out several words containing the skill you are targeting.  To play, pop the bubble, pick the number of words rolled, read each word and move your pawn.  For example, if a 5 is rolled, pick and read five words, then move 5 spaces on the board.  Trouble is a great game to help children practice reading a ton of words without realizing they are working!
To practice spelling, follow the same process as the reading option, except have the child spell the number rolled during each turn.
Pop the Pig
Pop the Pig is one of my Black Friday finds!  I picked it up for $5 at Target and I am so glad I did!  Kids love it!
To practice reading, print and cut out several words.  To play, roll the dice and pick a hamburger containing the color rolled.  Each colored hamburger has the number one through four.  Once a hamburger is chosen, pick and read the number of words listed on the hamburger.  For example, if the color "yellow" is rolled, pick one of the yellow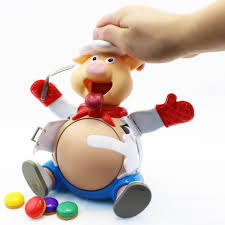 hamburgers.  On the underside of the hamburger, a number is listed.  If the yellow hamburger has a "four" on it, pick four words and read each word out loud.  Finally, place the yellow hamburger into the pig's mouth and press his hat "four" times.  If the Pig Pops, you WIN (or lose- however you decide to play)!
Spelling practice is just like the other games in that you simply have the child spell the number of words picked.
The possibilities are endless!  Other skills such as math facts can also be practiced using games! What games would you add to the list?
Written by Stephanie Castillo
Stephanie is the Center Director of the Brainspring Learning Center in Clarkston, Michigan.
---

Click here to learn more about our accredited Orton-Gillingham professional development.
---