Posted by Samantha Brooks on 26th Jun 2017
Student engagement is a critical part of reading remediation.  For students who struggle with reading and spelling, the repetitive skills required daily can lead to anxiety!  This is why it is important to offer a variety of multisensory activities to help students practice reading and spelling skills in an engaging manner.  Here is a fun, easy game to help students practice spelling and reading skills.
My students had a blast with this Mystery Word activity! Mystery Words is a great multisensory activity to liven up a lesson. I love the look of amazement on the kids' faces. It's just like a magic trick!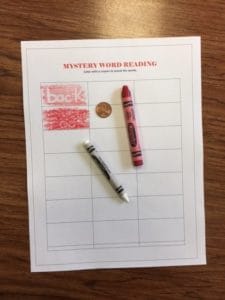 The materials you will need are:
 Sheet of white paper with boxes like the one above
 White crayon
 Dark-colored crayon
 Penny
Directions:
Call out each dictation word (don't forget to pound and fingertap!)
Students use a white crayon to spell the given word in the box.
Students color the box with a dark colored crayon.
Students use penny to scrape off excess crayon and to reveal the "hidden" word!
As a class, check the spelling with a clean copy model and read together.
Have Fun!!!
Samantha Brooks, MSE, Dyslexia Therapist
Samantha Brooks is an Intern Instructor with Brainspring Educator Academy.
For more information on Brainspring Educator Academy, visit us at http://www.brainspring.com