Posted by Brainspring on 8th Jan 2018
This is a great multisensory spelling activity to accompany the "sm" beginning blends.  All you'll need is some Marshmallows, a wooden skewer, and a marker.  If you allow snacks in your classroom, the students will be excited to find out they'll be having a little treat, too!
Materials
Large Marshmallows
Wooden Skewers
Markers
Directions for Spelling Smores
Pass out 5 or 6 Marshmallows to each student. This is the amount that fits on each skewer. Dictate the words from the list below. The students will write them across the marshmallow. Make sure they use large, evenly spaced letters around the Marshmallow. As they pierce the Marshmallow through the skewer, they read the words aloud.
Alternatively, for more practice with these words, you can split the students up in pairs. Split the dictation words between the students and have them take turns reading the words to each other as they skewer them.

Word List
smell
smog
smash
smith
smug
smack
smock
Happy Smoring!
~Georgia Diamantopoulos
Georgia is a tutor at Brainspring Learning Center in Shelby Township.
---
Bring Brainspring Orton-Gillingham multisensory instruction to your classrooms, transforming struggling K-12 readers into skilled learners through our effective, evidenced -based approach.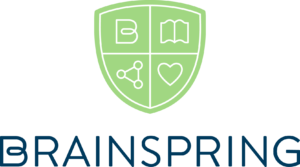 For more information please visit brainspring.com or call 1-8007323211