Posted by Tammi Brandon on 14th Jan 2018
In Brainspring's Phonics First® and Stuctures® programs, syllabication is one of the main components of the Five-Part Lesson Plan. The eight different syllable types are introduced one-at-a-time over a period of many, many lessons. Although students may use the Syllable Division Cards when identifying and labeling the different syllable types in the syllabication lessons, it is helpful for students to be able to quickly identify syllable types. This syllable sort activity provides hands-on practice for students working to learn the different syllable types. Making one is simple and quick.
Syllable Sort Activity
Download the Syllable Cards at the end of the post. Cut apart the individual word cards (alternately, teachers may make their own word cards). Consonant-LE and Schwa syllable types are not included because the focus of this game is on single syllables and both Consonant-LE and schwa syllables occur in multisyllabic words.
Next, write the known syllable types in columns or boxes on a large sheet of paper or whiteboard.
Finally, Students should select a word card, identify the syllable type, read the word, and then sort it into the correct syllable column or box.
Be sure to only use the introduced syllable types.  For example, if you have taught only Open and Closed syllables, only give students the word cards with Open and Closed syllables.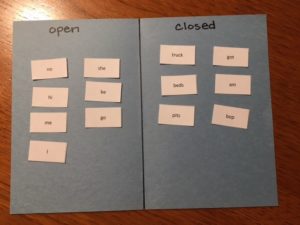 Use the included Pseudowords at your discretion.
For students who have learned Magic-E, include the Magic-E word cards.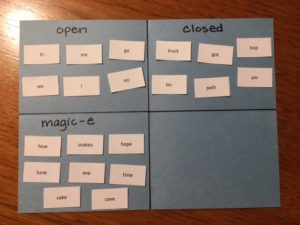 For students who have learned through the Vowel Team AI, provide Open, Closed, Magic-E.  However, only include the Vowel Teams EA and AI. Because students would not have learned the other Vowel Teams (OA, EE, AY, OE), do not include those word cards in the Syllable Sort.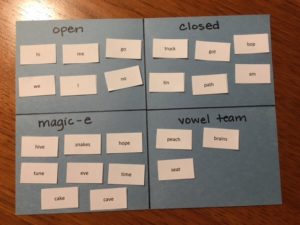 This makes a quick and easy review activity, intensive activity, or re-teaching tool. Students of all ages enjoy it, and it helps students to focus on the unique vowel sounds of each syllable type. Also, teachers or tutors can easily customize the activity to meet individual student needs while targeting specific skills.
Tammi Brandon, M.Ed., CDP
Tammi Brandon is a Master Instructor and Education Consultant with Brainspring Educator Academy.
---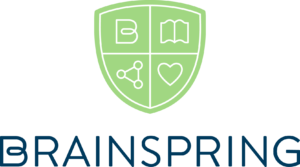 Bring Brainspring Orton-Gillingham multisensory instruction to your classrooms, transforming struggling K-12 readers into skilled learners through our effective, evidence-based approach.
For more information please visit brainspring.com or call 1-8007323211
---