Posted by Tammi Brandon on 14th Jun 2018
Syllabication makes a huge difference in students' abilities to read larger, unfamiliar words.  After students begin to internalize the Syllabication steps, teachers will sometimes see some of those steps start to fall away. Students will often want to skip penciling in the vowels, bridge, and consonants on the bridge in favor of just drawing a syllable division line. While this signals that students have internalized the process, be cautious and still require students to walk through all the steps for a least a few words during every lesson. This ensures that the Syllabication process stays fresh in the students' minds. It also allows the process to be readily called upon when students encounter an unknown word.
Thumbprint Syllabication
Once students begin to wean themselves away from the step-by-step Syllabication process, teachers can encourage students to use a visual Syllabication process. A fun way to do this is to teach students Thumbprint Syllabication.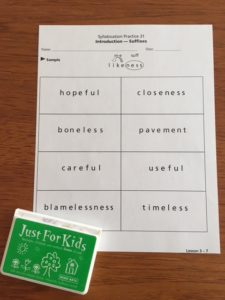 To begin, choose a Syllabication lesson that focuses on suffixes. In this example, I used the Magic-E with Suffixes Syllabication lesson (Syllabication Practice 31 in Brainspring's Syllabication Guide). Provide the student with a washable ink pad and instruct her to ink the thumb on her right hand.  Even left-handed students should do this activity with their right hand as the suffixes will always be on the right side of the word.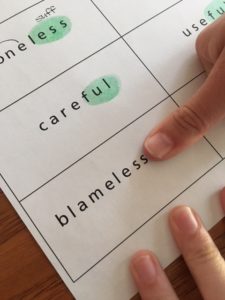 Next, instruct the student to look for the suffix in the first word. Ask her to put her thumb over the top of the suffix and press down. When the student removes her thumb, a colorful circle will lightly cover the suffix.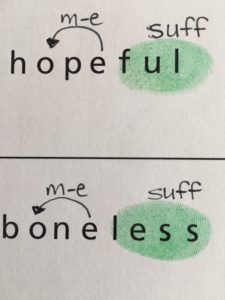 The student can now label each syllable type, read each syllable, and finally read the whole word. Because we have already taught the student to circle the suffix when Syllabicating words, point out that in Thumbprint Syllabication, the thumbprint serves as the circle.
The student can repeat this activity for each Syllabication practice word. In the event that a word has two suffixes, two thumbprints will be required.
Oral Reading
To transfer this activity to Oral Reading, choose a passage containing many words with suffixes, such as "The Selfish King" from Brainspring's Stories for Reading Practice – Layer Three. Prior to reading the story, copy select words with suffixes onto a sheet of paper and have the student do the Thumbprint Syllabication activity. When the student is ready to read the story, encourage her to use the Thumbprint Syllabication technique while reading. Instead of using inky thumbprints, have the student simply place her thumb over the suffixes in the story.
Enjoy!
Written by Tammi Brandon, M.Ed., CDP
Tammi Brandon is a Master Instructor and Education Consultant with Brainspring Educator Academy.
---

Click here to learn more about our accredited Orton-Gillingham professional development.
---