Posted by Tammi Brandon on 3rd Jun 2018
Struggling readers and spellers often have the most difficulty with vowels. Vowels are the most elusive letters in the English language. Because they are used in every word – even the two shortest words "a" and "I" – students must become proficient in vowel usage. One way to help students gain fluency and proficiency with vowel sounds is through games. Today's Multisensory Monday activity is the game of Bingo with a Vowel Intensive twist!
Vowel Bingo
In this activity, the student rolls a single die then uses the chart on the Advanced Vowel Intensive Bingo Download to determine which word to color in on the Bingo board. As in traditional Bingo, the student tries to get five in a row to win the game.
In this example, the student is using the Advanced Vowel Intensive Bingo – Long O Soundboard. If the student rolls a five on her first turn, she colors in any square with a word ending in OE.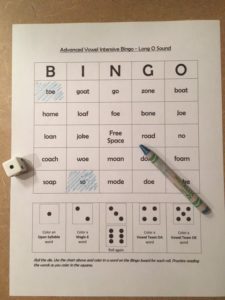 If the student then rolls a one, she colors in any square with a single O at the end of the word.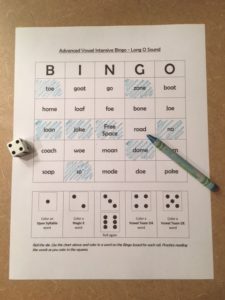 Play continues until the student gets five in a row.
While this example focuses on the long O sound, a blank game board can be found below. Use dictation words from the Phonics First® Curriculum Guide to fill in the game board and tailor this activity to meet the unique needs of your students!
Tammi Brandon is a Master Instructor and Education Consultant with Brainspring Educator Academy.
---

---