Posted by Julie Wright on 10th Mar 2019
Turn a plain, old dollar store puzzle into an easy multisensory activity to help your students practice with any letter sound. I created this activity for /z/ but you can select a puzzle picture for any other letter or blend.
Materials:
Any size puzzle (pick a puzzle that has larger pieces, and choose a size that works with your time schedule). I used a puzzle that has a zebra on it, to tie into my keyword for letter z.
Quick Preparation:
Construct the puzzle on top of a picture book or magazine. Cover with another book for support and then flip it over. Color coding by rows, using a permanent marker, write words in each row, putting part of the word on one piece and the rest of the word on the connecting piece. Number and color code your pieces 1-1, 1-2, 1-3, 1-4 for the first row and 2-1, 2-2 etc for rows 2-4. This will help you keep the words/rows organized for next time (see photo). Organize pieces in a small snack size baggie.
     
Make it Multisensory:
Set out the pieces for the first row. Do not let the student see the picture side. Ask your student to read the sounds on each piece, blend into a word and then connect on top of a hard book or magazine. Continue with rows 2-4.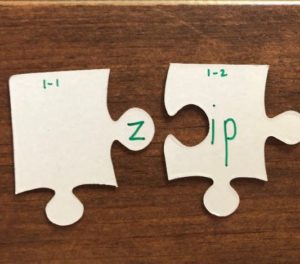 Have your students go back and reread all of the words as the anticipation grows!  Lastly, the teacher or student covers the puzzle with another book or magazine (for support) and flips over the puzzle to reveal the keyword picture – in this case, a zebra!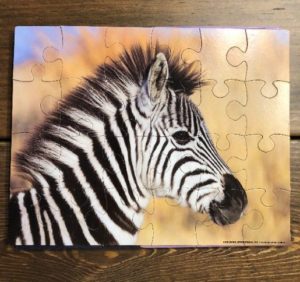 Enjoy!
Written by Julie Wright, M. Ed
Julie is a tutor at Brainspring Learning Center in West Bloomfield, Michigan.
---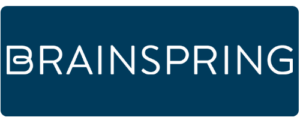 Accreditation: