Posted by Brainspring on 6th Dec 2015
Hi everyone,
I did a video of today's Multisensory Monday activity for you! It's a follow up to last week's post about the Rabbit Rule. I explain the Rabbit Rule again at the beginning of the video. If you already know the rule, feel free to skip to the activity at 3:10.
Be sure to leave your comments with ideas for the new year!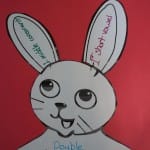 Rabbit Coloring Page
Modification for Barton System
On her blog, Dite explains how the Rabbit Rule activity can be modified to use with the "Happy Rule" in the Barton System.
Remember to like us on FB, follow us on Twitter and LinkedIn and share us with your friends!