Posted by Brainspring on 15th May 2017
To build correct neuro-copies in their brains, some students need more guided multisensory practice using an exact model.  Tracing boards provide that opportunity for "perfect practice."  Simply place a preprinted flash card of a letter or word under a clear tracing board (see examples of tracing board below). Students simply practice making correct letter strokes "over" a correct model.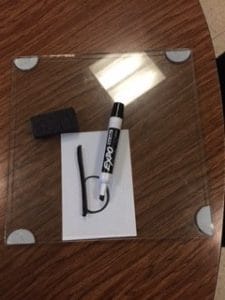 When using tracing boards for letter formation or to secure the correct visual model for a sound, use the same procedure as the magic sand tray. The kids say the letter name as they are writing, then underline the letter saying the sound.
CAUTION: THIS IS NOT TO BE USED IN PLACE OF THE MAGIC SAND TRAY!
For extra practice with red words, use the tracing board for letter sequences with irregular words (red words). Kids spell the word as they write over the perfect model on the flash card, then underline the word as they say the whole word.
CAUTION: THIS IS NOT TO BE USED IN PLACE OF WRITING or TRACING THE BUMPY COPY!
Here are some options for making your Tracing Board using a variety of materials that are cost efficient.
Glass Tracing Board
This is a glass tracing board. It is a clear glass pane, measuring 10" X 10" and ¼" thick. I put circular floor-saver furniture pads, cut in half, on each of the corners. This lifts the tray up off the table to make it easy to slide a letter or word card under the board for practice! The glass surface is dry erase and perfect for repetitive practice!
You can get glass panes at a glass shop or a home improvement store, like Lowes or Home Depot. The edges are smoothed down. I put a pad on each corner to give the board a little height.  The corners also make it easy to push around or slide on the table.
Plastic Solo Plate
Another option is a clear plastic Solo plate.  These make great tracing boards and are a much cheaper option to glass boards. I have used both the dinner-size plates and the salad-size plates.  They are a little flimsy, but they work! They are also Dry erase!
Samantha Brooks, MSE, Dyslexia Therapist
Samantha Brooks is an Intern Instructor with Brainspring Educator Academy.