Posted by Julie Wright on 19th Aug 2018
Short vowel sounds can be tricky. For students who need a second (or first) lesson on short vowel I, the following activity reinforces the keyword "itchy."
Materials:
*Printed out "cartoon" type graphic of an arm being bitten by a mosquito. On the top of the page write "Insects Make Me Itchy!"
*Small Band-Aids. On each Band-Aid, write the beginning and ending consonant with a space for the I in the middle (CVC word).
*Permanent marker
Make it Multisensory …
This activity would be great in small group! Remind students that the keyword for short I is "itchy." Ask if they remember being bitten by a mosquito. Briefly discuss what that feels like and then read the sentence on top of the paper. Have your students then select a band-aid and say the short I sound while using the permanent marker to add an I to the medial position in the word. Lastly, have students remove the backing of the band-aid, stick it onto the arm, and read the word.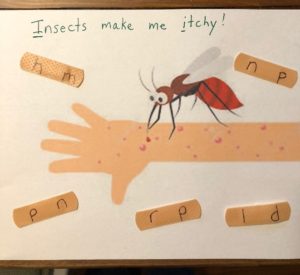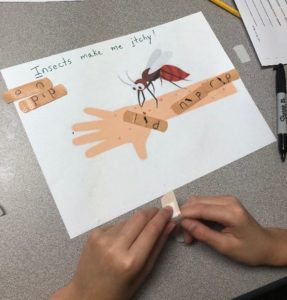 Variations:
If teaching whole group, create a very large arm on a bulletin board. Students place a red "dot paint" dot on the arm for each brainstormed short I word.  In the next lesson, each student writes one short I word on a small Band-Aid and the class covers the arm with all of the I bandages.
For older students, a real photo with insect bites might provide that "gross!" factor, which of course would make the lesson memorable!
Enjoy!
Written by Julie Wright
Julie is a tutor at Brainspring Learning Center in West Bloomfield, Michigan.
---

Click here to learn more about our accredited Orton-Gillingham professional development.
---