Posted by Samantha Brooks on 29th Jul 2018
Using House Paper is excellent for teaching the formation of letters and orientation so that students understand the letters and where they live in the house. So, without further ado, I would like to introduce The House Paper Family! Adults, babies, teenagers, and pets! Kids are familiar with the concept of a family and they can relate to the House Paper family members. This visual explains spatial orientation for letters in a fun way that kids understand.
Start by explaining the house, and make it multisensory!
This house has an upstairs, a downstairs, and a basement. Some letters live on one floor or multiple floors.

*Upstairs
*Downstairs
*Basement
The Adults (all capital letters) live upstairs and downstairs   *Show a demo model written on House Paper.

The Teenagers (b,d,f,h,k,l,t) live upstairs and downstairs, but they are not fully grown like the adults. *Show a demo model written on House Paper.

The Babies (lowercase letters: a,c,e,m,n,o,r,s,u,w,x,z) live only on the first floor.  They stay on the first floor because they cannot go upstairs by themselves. *Show a demo model written on House Paper.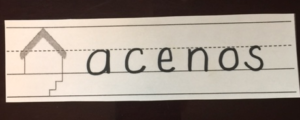 The Pets (g,j,p,q,y)  like to go down to the basement because they have tails. The basement is "unfinished" and "no one else goes down there because there are cobwebs!"  *Show a demo model written on House Paper.

Lastly, handwriting is an important skill that must be brought to automaticity. It frees up a person's mental reserve for writing fluency, as students do not have to expend energy on letter formation. Equally as important, improved decoding increases reading fluency that frees up mental reserves, so more energy can be used towards comprehension.
Enjoy!
Written by Samantha Brooks, MSE, CDP
Samantha Brooks is an Instructor with Brainspring Educator Academy.
---

Click here to learn more about our accredited Orton-Gillingham professional development.